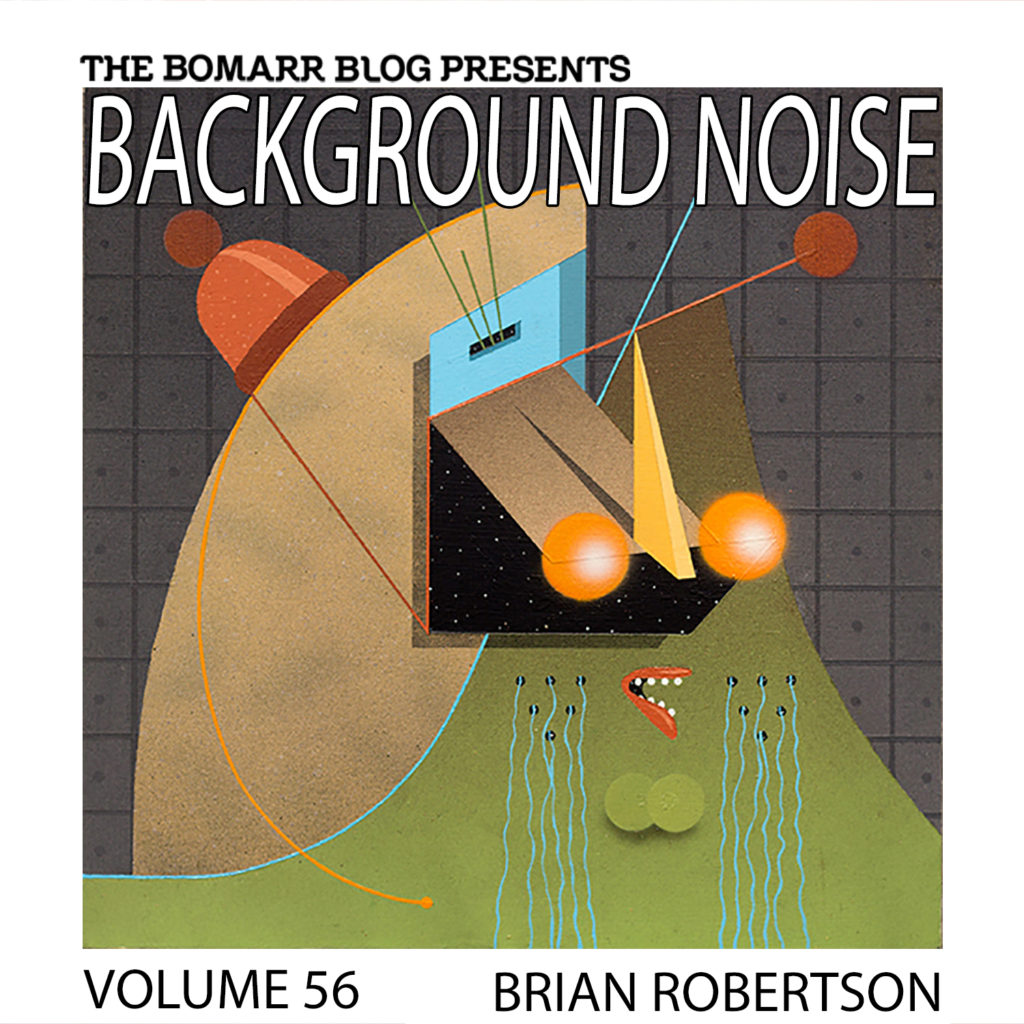 I wasn't familiar with artist Brian Robertson until recently. My new friend, Cameron Gray, who I met via this very Background Noise series, introduced me to his work. Brian, born in New Mexico, and now residing in Los Angeles, used to assist Cameron with his various elaborate installations, and he came highly recommended by Cameron for a project I've been helping RYOT out with. The project is called Brick By Brick, a web series that invites artists to come by the RYOT office and do their artwork on a cinder block while being filmed and interviewed.
I'm naturally drawn to surrealism and cubism, so Brian's work really speaks to me. His use of colors and shading is fantastic, and the visuals he comes up with are absolutely fascinating. His most recent series, on view now at Black Book Gallery in Denver, CO, focuses on his own interpretations of various abstract space rovers, and is on view through May 2. If you're in that area, you should definitely check it out. The exhibition is called Meta Structures. He is joined for this show by artist Max Kauffman. More info here.
First album you bought?
Quiet Riot, Metal Health…on cassette.
Last album you bought?
DIIV, Oshin
First concert?
The Dead Milkmen!
Last concert?
I don't see enough shows these days but I think it was Godspeed You Black Emperor, and it totally melted my face off.
Was there one album that made a significant impression on you?
There's been so many but I'd say it would have to be any Bob Marley album…It's my comfort music.
Who is your musical hero?
Thom Yorke, Frank Zappa, Television…really just all the visionaries that were always innovating and ahead of the curve.
How important is music to your creative process?
Music is essential. I don't know what art would be today if there was no music, but I would assume it would be pretty bad.
1. Johnny Jenkins – Spunky
2. Eddie Bo – Funky Jam
3. Ween – Voodoo Lady
4. Henry Thomas – Texas Easy Street Blues
5. Mable John – Same Time, Same Place
6. cLOUDDEAD – Side B (cLOUDDEAD #6; Bike 10"), Peel Session
7. Francoise Hardy – La Fille Avec Toi
8. Allen Toussaint – Southern Nights
9. Ms. John Soda – Hiding/Fading
10. Bob Dylan and the Band – Goin To Acapulco
11. Lloyd Parks – Slaving
12. The Misfits – Attitude
Check out Brian's playlist below on Spotify. Be sure to like Background Noise on Facebook for updates on future episodes. You can browse ALL the Background Noise episodes right here.