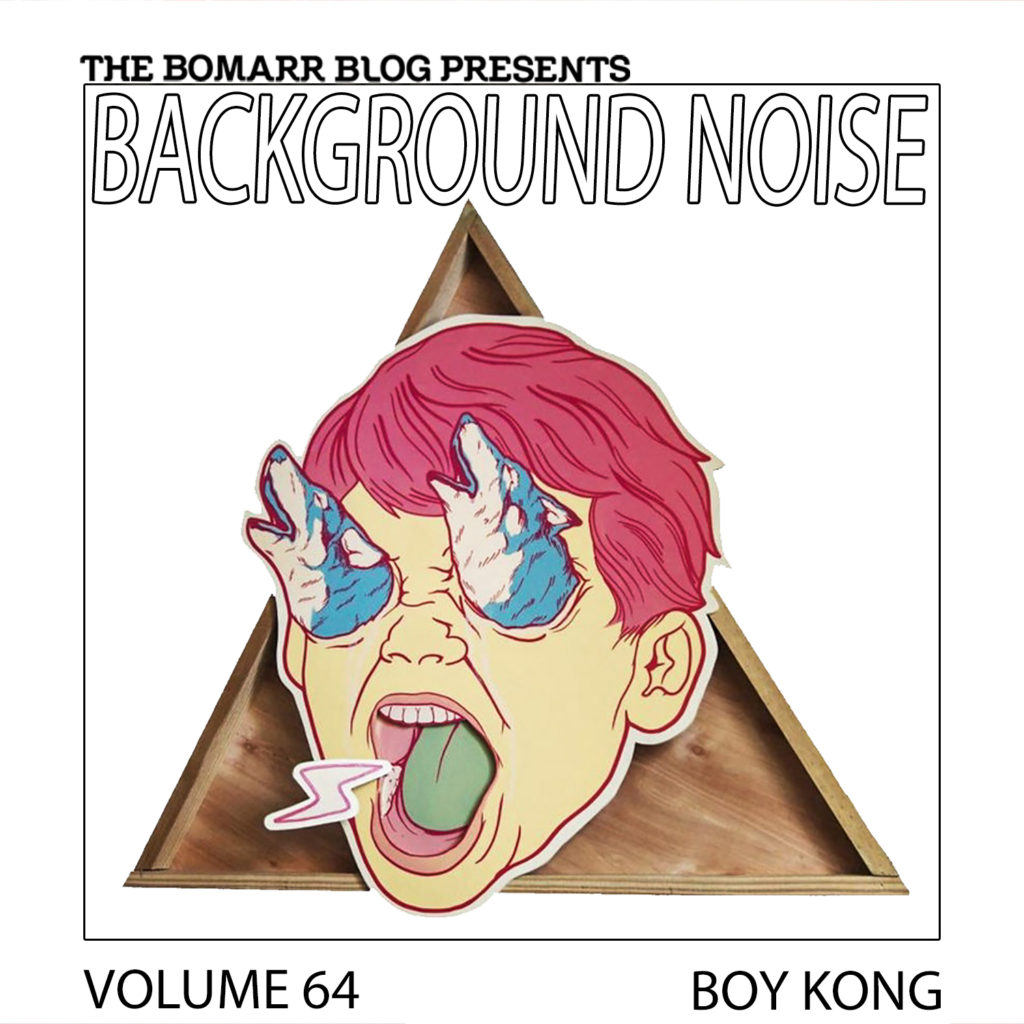 Boy Kong's work first jumped out at me at the 2014 Fountain Art Fair in New York City. While I was familiar with many artists at the fair, there were even more artists that I had never heard of, which I always look forward to because I love to stumble on new and amazing art.
I'm not sure if it was the bright colors, or the intricately-carved wood in his work that really sucked me in. See, Boy Kong is a master of the jigsaw, shaping wood like he's shaping clay. He makes it look so easy. Using wood, acrylic, and glue as his mediums of choice, the 20-something self-taught artist from Orlando draws inspiration from Western culture, Asian design elements, and Asian folklore to create playful and surreal pieces of art.
What was your first concert?
Bloc Party
Last concert?
The Wonder Girls haha
First album you bought?
Bloc Party
Last album you bought?
Die Antwoord
Was there one album that made a significant impression on you?
White Lies – Big TV
Who is your musical hero?
Kid Cudi
How important is music to your creative process?
Like milk and cookies. It's a must. It hypes me up and puts me in a working mood.
Die Antwoord- Evil Boy
Bloc Party- Flux
Keith Ape – 잊지마 (It G Ma) ft. JayAllday, loota, Okasian
Bloc Party- The Prayer
White Lies- Unfinished Business
White Lies- Death
Arcade Fire- The Suburbs
Die Antwoord- Enter The Ninja
The Killers- Bones
Kid Cudi- Teleport 2 Me
Kid Cudi- King Wizard
White Lies- Big TV
Monkey- Heavenly Peach Banquet
Interpol- Evil
Interpol- Obstacle 1
Check out Boy Kong's playlist below on Spotify. Be sure to like Background Noise on Facebook for updates on future episodes. You can browse ALL the Background Noise episodes right here.