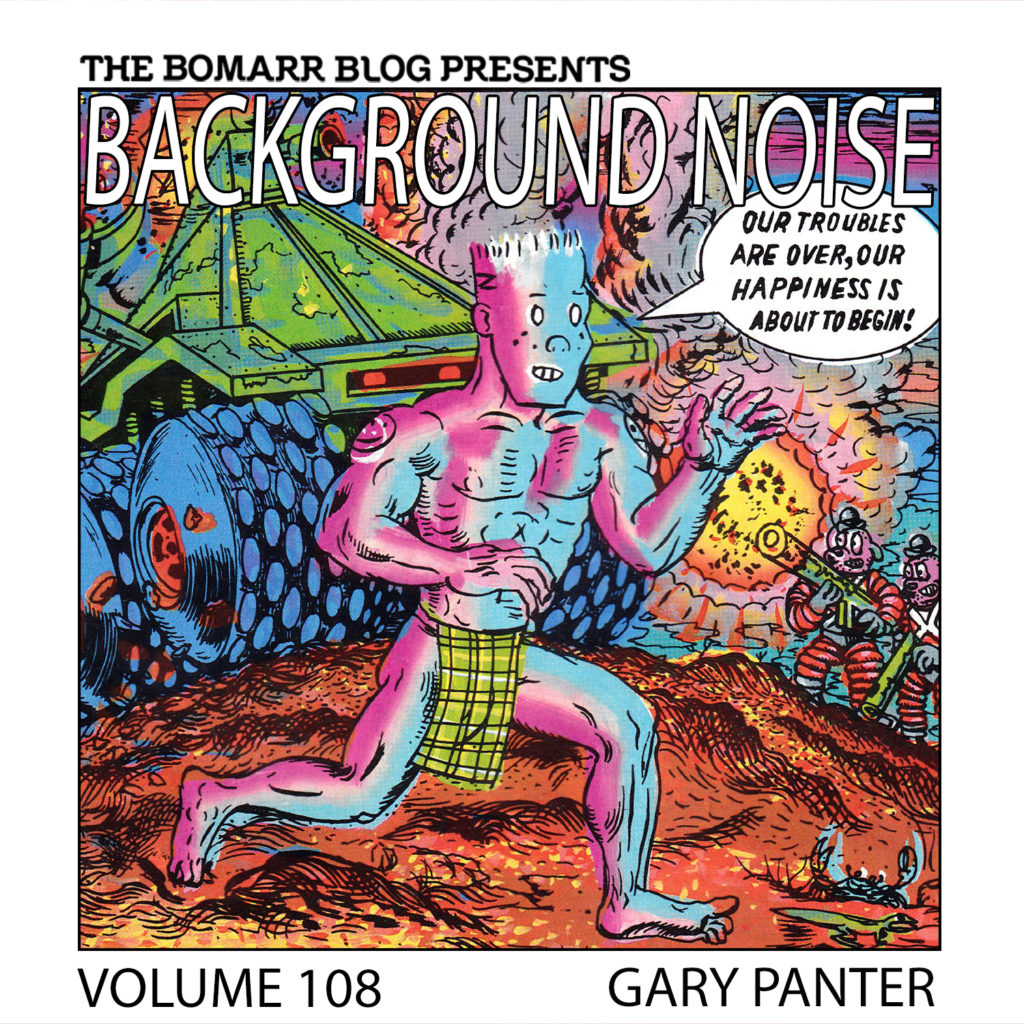 Gary Panter has already infiltrated the brains of many of you reading this, whether you know it or not.
First off, the hair for his now-iconic comic character Jimbo (pictured above) inspired the hair of the even more iconic Bart Simpson.
Oh, also, in the 80s, he was an Emmy award-winning set designer for a show you may have heard of called Pee Wee's Playhouse.
If that's not enough, Panter, who artist Mike Kelley considered a genius has done roughly 50 album covers for the likes of The Screamers, Frank Zappa, Red Hot Chili Peppers, Oingo Boingo, Richard Hell & the Voidoids, Yo La Tengo, the Dirtbombs, and many others.
He's been a Ralph Records affiliate (which, given his artistic and musical background, leads me to wonder if he ever performed on stage as one of the mysterious Residents, but that's just my own wishful thinking).
It truly seems like he's never really rested on his laurels. Between the graphic design, the painting, the comic art, and being a musician himself, he's always working.
His name has become synonymous with so many albums at this point. It seemed only fitting that I have him answer a few music-related questions.
First album you bought?
First 45: Ahab the Arab – Ray Stevens
First LP: Summer Days and Summer Nights – The Beach Boys
Last album you bought?
At Big Pink – Bengali Bauls
First concert?
Bobby Gentry/ Glenn Campbell
Last concert?
Yo La Tengo
Was there one album that made a significant impression on you?
Frank Zappa's Uncle Meat
Who is your musical hero?
Jimi Hendrix was an advanced prototype of something.
How important is music to your creative process?
I need to be alone a lot so playing records is company. And making music with friends for the last 15 years has been my social life. Devin & Gary, Devin, Gary & Ross, Fogwindow, Twigs of Sister Tomorrow are names Devin Flynn, Ross Goldstein, Curtis Godino, Lily Rogers and I have worked under and made 4 LPs so far. And Kramer joined us for a couple a short tours. I look forward to resuming music making as the plague subsides.
Is there any music, in particular, getting you through this strange time we're living through?
A lot of music I profoundly love from the 60s I can't hear fresh, so during COVID I have really enjoyed the phenomenon of reaction videos and seeing young people decide to listen to 60s music and artists I love is cool to me.
Any visual artist(s) you'd like to see answer these questions?
Cal Schenkel, Edwin Pouncey aka Sav X, KAZ (Spongebob writer and RAW artist), Charles Burns (RAW artist), Leslie Stein (cartoonist) and Prince Rupert's Drops (band).
Fall Breaks and Back to Winter (Woody Woodpecker Symphony) – The Beach Boys
Texas – The Electric Flag
1983…(A Merman I Should Turn to Be) – Jimi Hendrix
Click Clack – Captain Beefheart & His Magic Band
The Eric Dolphy Memorial Barbecue – Frank Zappa
What Reason Could I Give – Ornette Coleman
I Found Out – Kaleidoscope (US)
Quicksilver Girl – Steve Miller Band
Let Go of You Girl – The Left Banke
Tic Tic Tic, It Wears Off – Todd Rundgren
Love Like Anthrax – Gang of Four
Life of Crime – The Weirdos
This Is All I Ask – Tiny Tim
Come Up the Years – Jefferson Airplane
Rain – The Beatles
Check out Gary's's playlist below on Spotify. Be sure to like Background Noise on Facebook for updates on future episodes. You can browse ALL the Background Noise episodes right here.