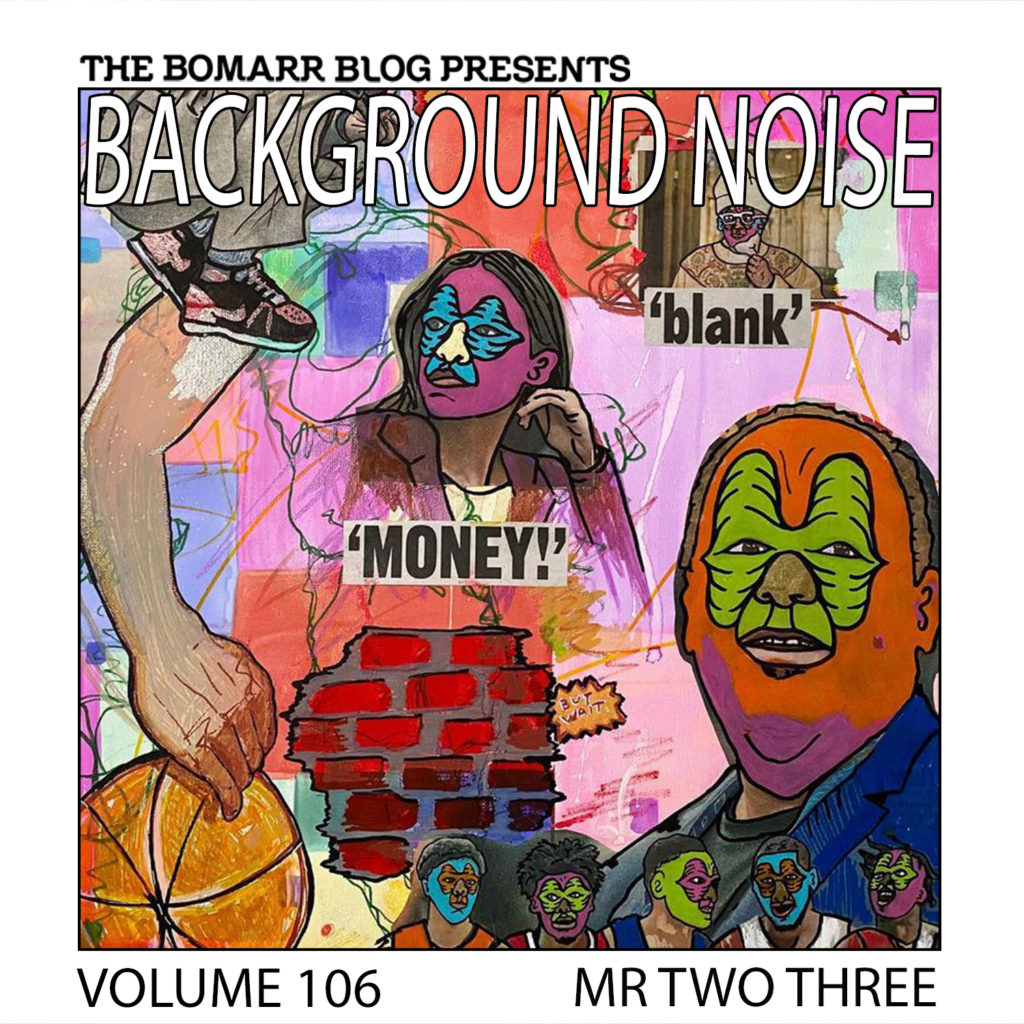 Honestly, I've been sitting on this volume of the series for a bit partly due to general life stuff, and partly because I haven't known exactly where to start when it comes to talking about Mr. Two Three. There's not a lot of information on him out there, aside from what he's put out himself, which honestly sums it up better than I could:
Mr. Two Three (1982-) Artist residing in New York City. Two Three "remixes" pop culture items dating back to early photographs from the early 1920s. Adapting any form of Cultural influence to his world of overstressed, overworked caricatures including LP records, magazines, skateboards, newspapers, marketing propaganda, and recently ceramic busts. His work depicts our icons in a light not usually shown in public, an imperfect being that is struggling within. Mr. Two Three's bright pop colors draw you into a tongue-in-cheek world where one's secrets are on full display. Originally a deejay and music producer/engineer, he now refers to himself as a creative plastic surgeon.
That being said, I was introduced to Mr. Two Three's work during my time in the early 10s living in NY's East Village. I would see his work around on homemade stickers, walls, one of Hanksy's underground "Surplus Candy" shows, and eventually in the Lower East Side's Krause Gallery, where he would occasionally pop up in group shows.
I think the thing that originally drew me to him was seeing some of the work he'd been doing over existing magazines/photographs, decorating them, and morphing them to his own liking with a paint pen. This is something I've dabbled in over the years, and it was nice to see someone else doing it (and better). Seeing that he was also doing great wall pieces, straight-up graffiti, and sculpture work only made him that much more appealing.
He put together this playlist back in September 2020, but given the timelessness of these hip hop/funk/soul classics, I'm going to go out on a limb and assume that these picks still apply when it comes to music that inspires him.
First album you bought?
I remember going to the beach and I got MC Hammer's "2 Legit" on tape lol
Last album you bought?
I'm more into collecting classics on vinyl or I will check out what's new on Spotify. Think Kehlani's "It Was Good Until It Wasn't" was the last album I enjoyed all the way through. The new Nas album is killer also.
First concert?
Janet Jackson's "Janet" tour in '94. I went through puberty during her set.
Last concert?
Jeru the Damaja at Sony Music Hall NYC a week before the shutdown.
Was there one album that made a significant impression on you?
I went back and forth on this one between Outkast's "Aquemini" and Snoop Dogg's "Doggystyle". Ultimately, gotta go with Snoop. I remember memorizing that album front to back when it came out and reciting it at the back of the bus. It also introduced me to funk and led me down a deep path of finding samples once I started DJing.
Who is your musical hero?
Man, gotta say Tupac. Just feel like his loss on the world, especially in its current state, is immeasurable. He could have been POTUS instead of 45, imagine that!
How important is music to your creative process?
It's really the glue that holds it together. When I am getting into a piece, music is always on in the background and will take me to certain places creatively I may not have hit otherwise. Can get deep into a zone when the music is on point. I always laugh because I feel like when a shitty song comes on, I fuck up my lines.
BONUS: Is there any music, in particular, getting through this strange time we're living through?
Yea really lots of soul and funk songs from the 60s-70s are really relevant today. I find myself dipping back into Gil Scott Heron's live sets and Eddie Kendricks's discography lately.
Gil Scott Heron – "My Way Home"
Betty Davis – "They Say I'm Different"
Snoop Doggy Dogg – "Doggy Dogg World"
Ohio Players – "Sleep Talk"
The Stylistics – "It's So Good"
Jay-Z – "Imaginary Players"
Cortex – "Prelude a Go Round"
Thelonious Monk – "April in Paris"
Eddie Kendricks – "My People…Hold On"
Kehlani feat Masego – "Hate The Club"
Ohio Players- "Ecstacy"
Lil Baby feat Lil Uzi Vert – "Commercial"
Eddie Hazel – "Frantic"
The Fatback Band – "Is This The Future"
Nas feat Big Sean & Don Toliver – "Replace Me"
Bootsy Collins – "Munchies For Your Love"
Check out Mr. Two Three's playlist below on Spotify. Be sure to like Background Noise on Facebook for updates on future episodes. You can browse ALL the Background Noise episodes right here.