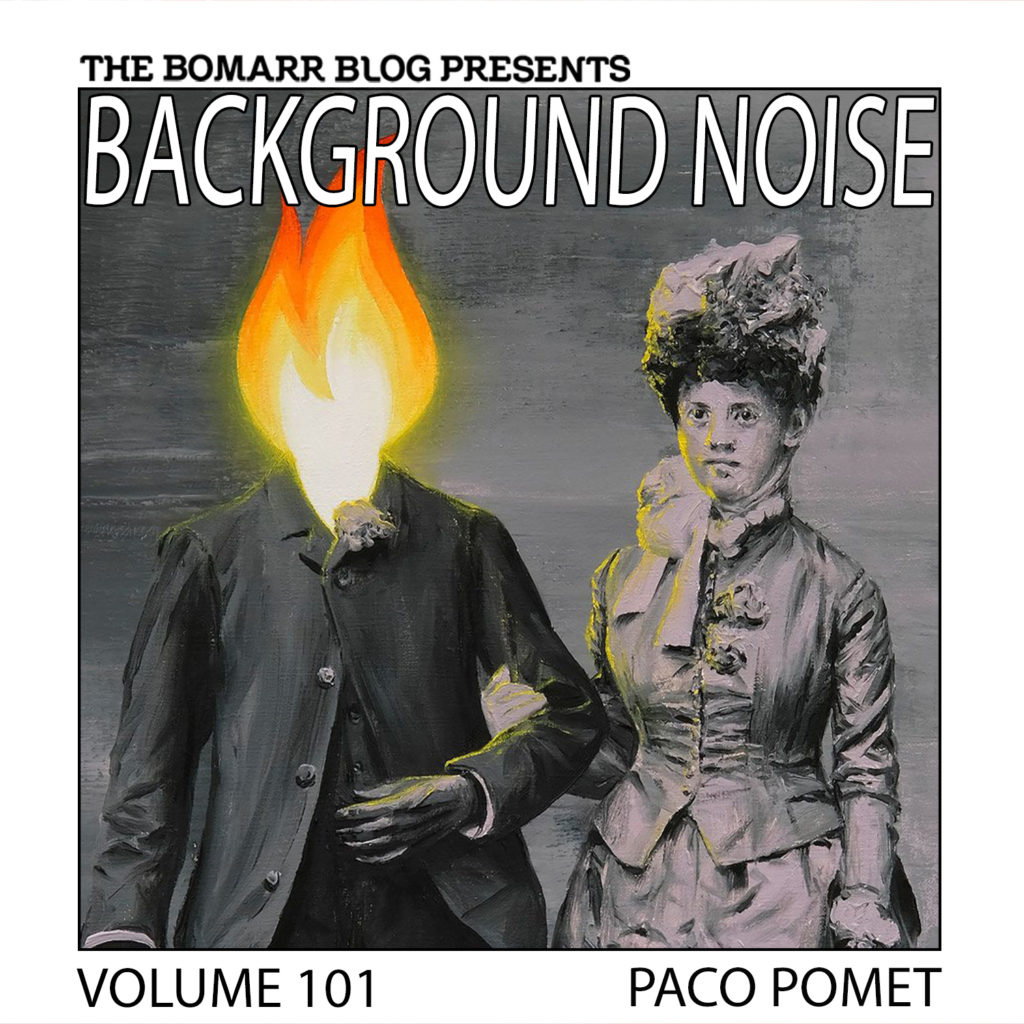 I could pick at random any one of Spanish artist Paco Pomet's oil paintings, and it would be something I would happily hang on a wall in my home. Most of his work consists of near-hyperrealistic black and white or sepia tone paintings, usually with just a splash of well-placed color to bring attention to something either ominous in the background or slightly out of frame.
As you'll find with most artists I tend to gravitate towards, it's the surreal imagery that really drives things home for me. Seeing neon lights placed into these vintage scenes creates a mysterious, otherworldly vibe. People with arms and legs stretched like silly putty, connected at their limbs. It's honestly like nothing I've seen before, and I'm absolutely obsessed. The fact that the visuals tend to have a mundanity at the surface, but have a bit of odd mystery just underneath, makes it that much more fitting that Banksy had Paco involved in his 2015 Dismaland art theme park. And it makes perfect sense to me that Paco also cites Herzog, Lynch, Bunuel and Fellini as some of his favorite filmmakers. No wonder this guy has a knack for the surreal.
Last album you bought?
The 1955 recordings of Bach's Goldberg Variations, by Glenn Gould
First concert?
A classical music concert with my parents. They used to take my brother, sister, and I to the Manuel de Falla Auditorium in Granada. I wish I could remember the program of the first concert we attended.
Last concert?
Coque Malla. Tour of his last album "¿Revolución?"
Was there one album that made a significant impression on you?
Not only one. Quite a few. It is very difficult to choose but I will name 3: The Black Rider by Tom Waits / Gustav Mahler 9 Symphony (Carlo Maria Giulini recording in 1976 with the Chicago Symphony Orchestra) / Lift Your Skinny Fists Like Antennas to Heaven (Godspeed You! Black Emperor)
Who is your musical hero?
Gustav Mahler
How important is music to your creative process?
Essential. The long periods of solitude in the studio and my love for music (the art that I consider the highest) make its company a necessity.
BONUS: Is there any music in particular getting through this strange time we're living through?
Not really in this particular time. The lockdown and the social distance made me want to listen to people, talking about many issues and matters so I have been listening to many podcasts lately.
All The Things You Are – Art Tatum, Ben Webster, Red Callender, Bill Douglass
You Can Never Hold Back Spring – Tom Waits
I Want You – Bob Dylan
The National Anthem – Radiohead
Segundo Premio – Los Planetas
Static – Godspeed You! Black Emperor
Two Rights Make One Wrong – Mogwai
New Grass – Talk Talk
Birds for the Mind – Wim Mertens
Pruitt Igoe – Philip Glass
Prospero's Magic – Michael Nyman, Michael Nyman Band
The Sound Of Someone You Love Who's Going Away And It Doesn't Matter – 2008 Digital Remaster – Penguin Cafe Orchestra
Recomposed By Max Richter: Vivaldi, The Four Seasons: Spring 1 – Max Richter, Daniel Hope, Konzerthaus Kammerorchester Berlin, Andre de Ridder
4 Impromptus, Op.90, D.899: No.3 in G Flat Major: Andante – Franz Schubert, Radu Lupu
Mahler: Symphony No. 2, "Resurrection": IV. Urlicht, "Der Mensch liegt in grösster Not" (Alto). Sehr feierlich, aber schlicht – Gustav Mahler, Sir Simon Rattle, Berliner Philharmoniker
Check out Paco's playlist below on Spotify. Be sure to like Background Noise on Facebook for updates on future episodes. You can browse ALL the Background Noise episodes right here.