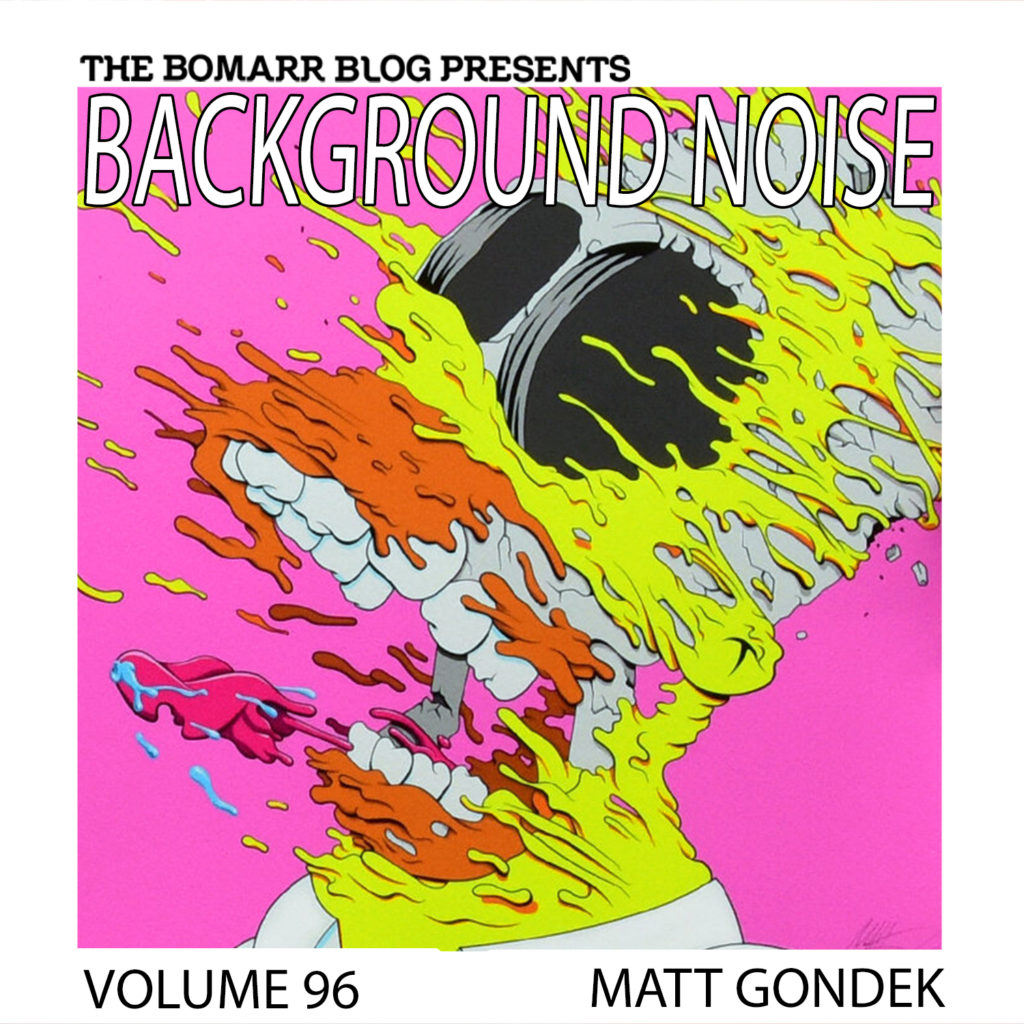 I first heard about artist Matt Gondek through his podcast "Clean Break". Honestly, I think it was due to an artist I follow having posted something on social media about having been on his podcast. What I stumbled on was an archive of over 100 episodes featuring many artists whose work I love. Alex Garant, Jaune, Scott Listfield, Buff Monster, and many others have all sat down with Matt to discuss art, business, and many other things. From there, I discovered that Matt was actually a talented and experienced artist in his own right.
A self-taught artist, he opened his own clothing and art gallery at 30 but then moved to Los Angeles at 31 after realizing that wasn't where his true passions lay. He instead focused his time and energy on his art. His work is frequently referred to as a form of "deconstructed pop icons". You'll frequently see pop culture figures like Homer Simpson or Mickey Mouse exploded (psychedelically, as opposed to violently) into bright bursts of color on the canvas. These bright colors and clean lines inspired by years of reading comic books add to the whole surreal imagery to great effect. (It is worth noting, Matt created his first comic book at 11, so he's been at this for a while).
Matt was quick to put together a list of songs he listens to in the studio. It's an eclectic mix of upbeat punk rock (Against Me!, Refused, Dead to Me) to the more electronic-leaning sounds of Washed Out, Diplo, and LCD Soundsystem.
Check out the interview and playlist below.
First album you bought?
First Album I ever bought was Totally Krossed Out by Kriss Kross.
Last album you bought?
Dead Tracks 1&2 _by the Bronx
First concert?
The Beach Boys w/ mom and dad in fourth grade.
Last concert?
The Damned Things
Was there one album that made a significant impression on you?
Album w/ the biggest significant impression — which lead my entire life down a particular path of DIY Punk rock — Dookie by Green Day. Opened the door to so much of what I love to this day.
Who is your musical hero?
I think Lady Gaga is pretty incredible. She's a huge mega-star and doesn't seem to have lost her soul or independence in the process.
How important is music to your creative process?
Music is very important. My next exhibition, MOOD SWINGS…all the pieces are based off of some of my favorite punk Rock Songs.
Freezing in the Sun – Clowns
Heart Attack American – The Bronx
Paper Lanterns – Green Day
Spanish Moss – Against Me!
Armageddon – Alkaline Trio
Too Late – Washed Out
Soul Sauce – Cal Trader
Black Hole in My Mind – The Lillingtons
Euphoria – Killing Joke
I Wanna Die in Los Angeles – Dead to Me
Sarah – Diplo
Someone Great – LCD Soundsystem
Summer Holiday vs Punk Routine – Refused
Somebody New – Joywave
Check out Matt's playlist below on Spotify. Be sure to like Background Noise on Facebook for updates on future episodes. You can browse ALL the Background Noise episodes right here.