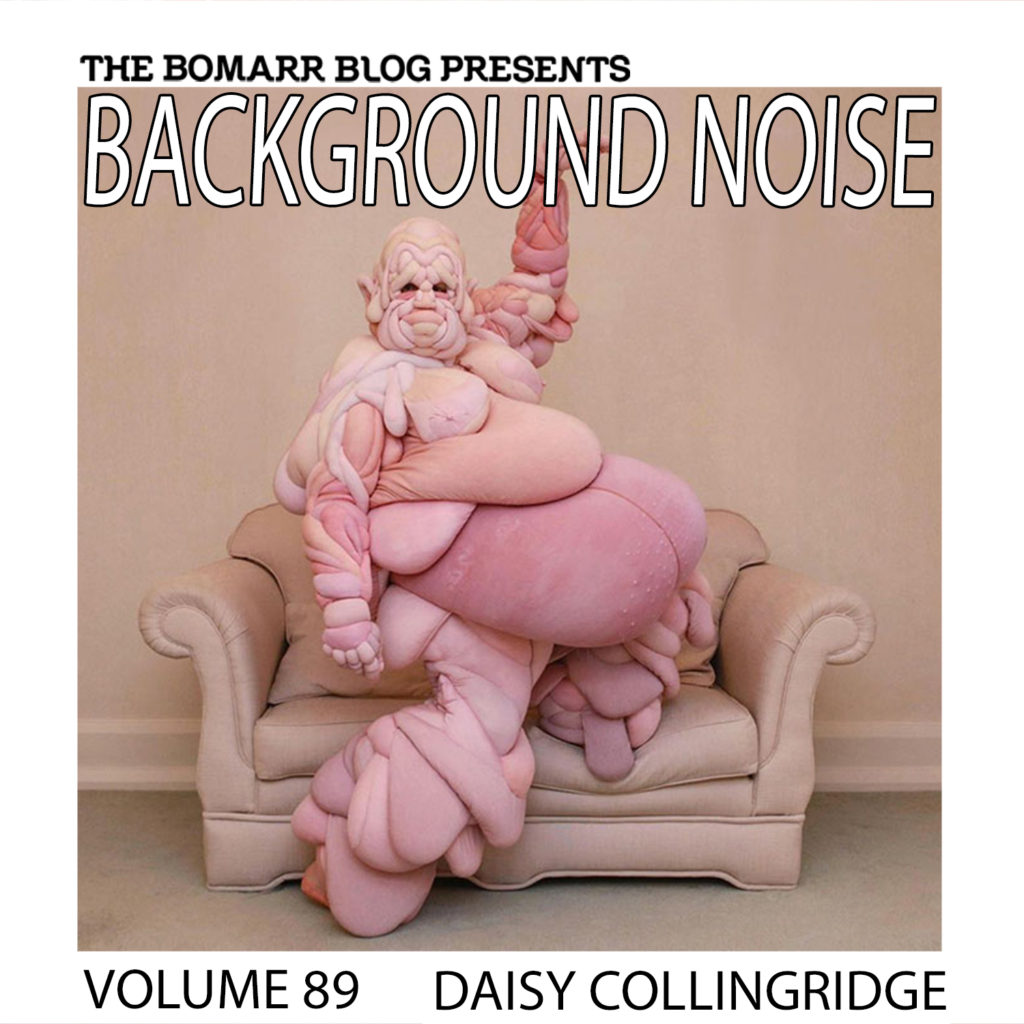 Is it weird that I kind of want a hug from one of Daisy Collingridge's squishy textile creations? No? Ok, cool. Just making sure.
There's something about them though. Something that relaxes me. Most likely, the pastel colors. Possibly even because I could fall asleep in any bean bag you throw at me. They're always photographed in front of mostly plain, non-distracting backgrounds, and even their stances are more inviting than not. Either they're gazing away from the camera, or striking poses like they're on the dancefloor or doing Tai Chi. None of them are intimidating.
Daisy is from the greater London area. She's been working in textiles for a while now, and these fascinating "squishies" are meant to challenge the idea of an ideal body type. Sometimes she wears these body suits. Sometimes her dad is in there. She even designed a dress for Bjork when she was fresh out of college.
Check out the short video below. Seeing these characters in motion is quite something.
First album you bought?
It's a tricky one to remember. I think it's Gorillaz; 'Demon Days' or possibly The Killers; 'Hot Fuss' (though I may have just stolen that from my sister and made it my own.)
Last album you bought?
Ergh. No idea! The industry has changed so quickly. I have a feeling the last CD I bought was Vance Joy 'Riptide'. I lived in New Zealand for a bit so I think I was trying to channel some kind of surfer-type vibes.

First concert?
Mika! In London. I distinctly remember a disco ball and glitter.

Last concert?
Adele. In Auckland. She is brilliant, she chats throughout, and despite being in a huge stadium, she still manages to make it personal.

Was there one album that made a significant impression on you?
I'll admit it. I love a Musical. So I am going to say Cats (Original London Cast Recording). It beautifully shows the strength of collaboration between different creative processes. The poems by T.S. Elliot became songs thanks to Andrew Lloyd Webber. The Music inspired the choreographer to get the dancers to move like cats. The costumes represented the cats without dressing a human head-to-toe in fur. It is a kind of magic. It utterly captured my imagination. I have loved the theatre since. There are elements of theatricality in my work and movement and physicality are threads that have always run through my work. 

How important is music to your creative process?
When I first thought about this, I didn't think the music I listened to had a major effect. However, as I have considered the question more I have realized that I do listen to different things depending on what stage of the process I am at. Firstly, I always like to have something on, I don't like silence. The start of a project is by far the hardest and requires the most thought and concentration. At Itis this stage I tend to play quite chilled electro-ish music (Bonobo, Moby). It's relaxing but with this underlying energy. It can flow over you and fill you up without disrupting your thoughts. If I am in the sewing/construction phase (I have a plan) I will often listen to audiobooks. The work I make takes days of hand sewing. I used to read books, but I have now found sewing and audiobooks are a happy marriage! If I am feeling flat or uninspired I'll max the volume and either put on a belter by Dolly Parton or get dancing to something like 'Soothing' by Laura Marling. This serves as a re-energizer and boosts me to get on with the project. Movement is an important element of my work, so having a dance is totally part of the process.
BONUS: Is there any music, in particular, getting you through this strange time we're living through?
Totally. I was discussing this with my sister. Music has the power to transport you. I have gone back to listening to the music that my parents played when we were growing up. There is a real comfort and nostalgia in playing music that takes you home. So there has been a fair amount of Simply Red, Santana, Mary Black, and Beautiful South blaring from my speakers in the last two months. A musical hug from the comfort of my childhood.
"Porcelain" – Moby
"Kerala" – Bonobo
"Wandering Star" – Portishead
"Pray For Rain" – Massive Attack
"Little Fluffy Clouds" – The Orb
"Koop Island Blues" – Koop, Ane Brun
"So Easy" – Röyksopp
"Flower (B-Sides)" – Moby
"Barefoot in the Park (feat. ROSALÍA) – James Blake, ROSALÍA
"Dead Editors" Massive Attack, Roots Manuva
"Making Plans For Nigel" – Nouvelle Vague
"Alviverde" – Jun Miyake, Arto Lindsay
"Rhiannon" Fleetwood Mac
"Magnificent (She Says)" – Elbow
"Soothing" Laura Marling
"The Bargain Store" – Dolly Parton
"Dancing in the Moonlight – Acoustic Version" – Toploader
"Born Slippy (Nuxx)" – Underworld
daisycollingridge.com
Instagram
Check out Daisy's playlist below on Spotify. Be sure to like Background Noise on Facebook for updates on future episodes. You can browse ALL the Background Noise episodes right here.