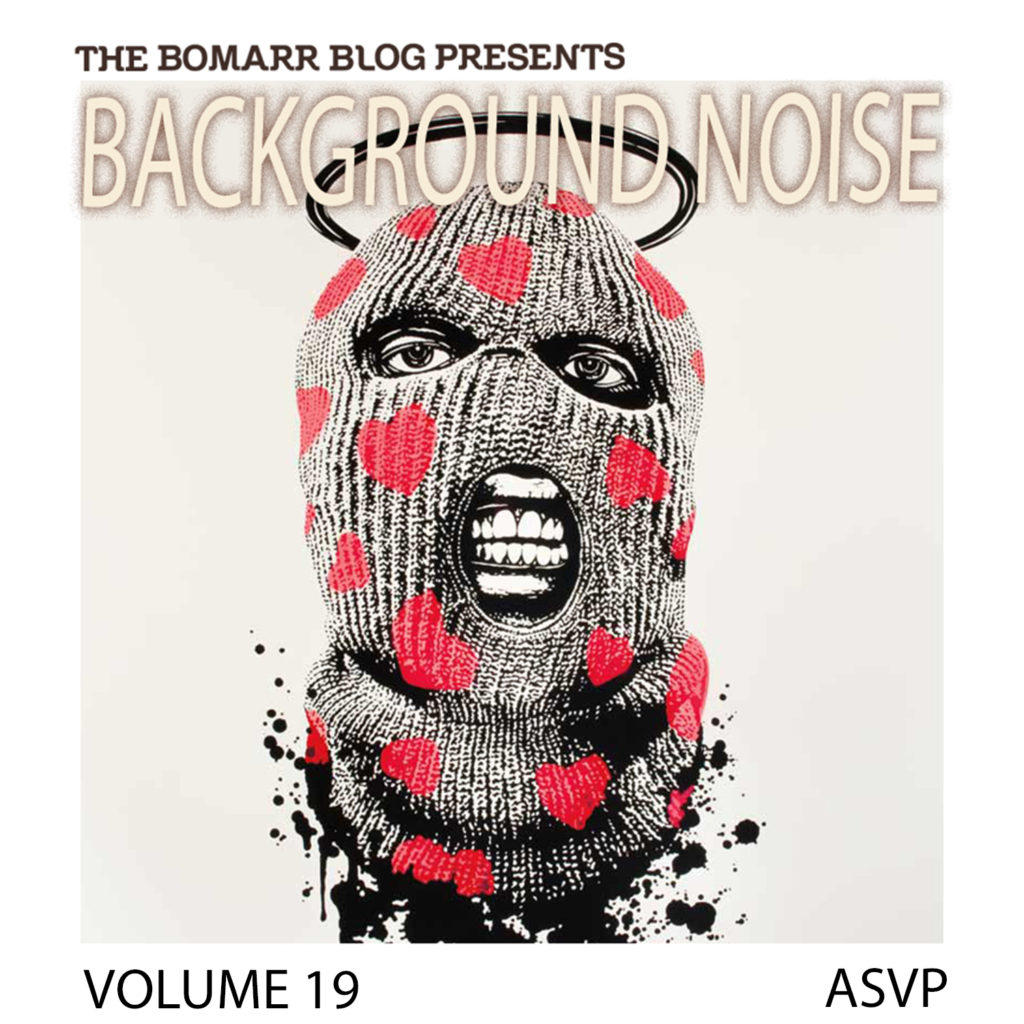 Back in 2009, when I was living in San Francisco, and not long after joining the smartphone revolution, I started photographing street art and random stuff in the Bay Area. By mid-2010, about 6 months before moving to New York City, I started seeing some eye-catching wheat pastes by ASVP. I'd see these pieces on my walk into work, a few blocks south of Market in downtown San Francisco. They'd be plastered onto walls or the giant beams under the highway overpass. I knew nothing of ASVP though, just that I liked the imagery, like the menacing, balaclava-clad thug with a halo above his head that you see above, or the Future Cop design, which featured a boy wearing an ASVP helmet while riding a fish.
Fast forward to December of 2010, the month I moved to the East Village in Manhattan. I started seeing these same pieces of art in my neighborhood, as well as some newer designs, like the one above. I was hooked and had to find out more about this artist. As expected, information was scarce, aside from the fact that it was not just one artist but two, which somehow made it even cooler to me, that these guys were running around town putting this great art up on the street.
I was fortunate to have met one of them at a mutual friend's art show on the Lower East Side a couple of years ago, although I still know nothing about them, which, I'm sure, is how they like to keep it.
In the past couple of years, they have designed a trench coat for Angés B, installed an astounding 25 pieces in Spotify's NYC office, and were yet another of the many great artists who participated in Hanksy's "Surplus Candy" show in an abandoned building a few months back. Most recently, they exhibited their work alongside Skewville at Doyle New York, one of the world's largest auctioneers and appraisers of fine art, for a 3-day show on Manhattan's Upper West Side.
I caught up with one-half of ASVP when I was invited to their studio to collect a tracklisting and ask some questions for Background Noise while they kept working, trying to stay focused on finalizing some of the work for the Doyle show that coming weekend.
The mix turned out great, as you will hear below. I really love the diversity here. Anyone who can jump from Aphex Twin to Marshall Tucker, AC/DC to Underworld, gets respect in my book.
What was your first concert?
Fishbone
Last concert?
Yeah Yeah Yeahs at Barclays Center
First album?
The Smiths – The Queen Is Dead
Last album you bought?
The Big Pink – A Brief History of Love
Any album that made a significant impression on you?
Radiohead – The Bends
Underworld – Second Toughest In The Infants
Who is your musical hero?
Wayne Newton
How important is music to your creative process?
Very. I listen to music all the time when I work and it definitely has an impact on my ability to focus and dig in.
Find ASVP on Twitter, their Facebook fan page, or at asvpart.com