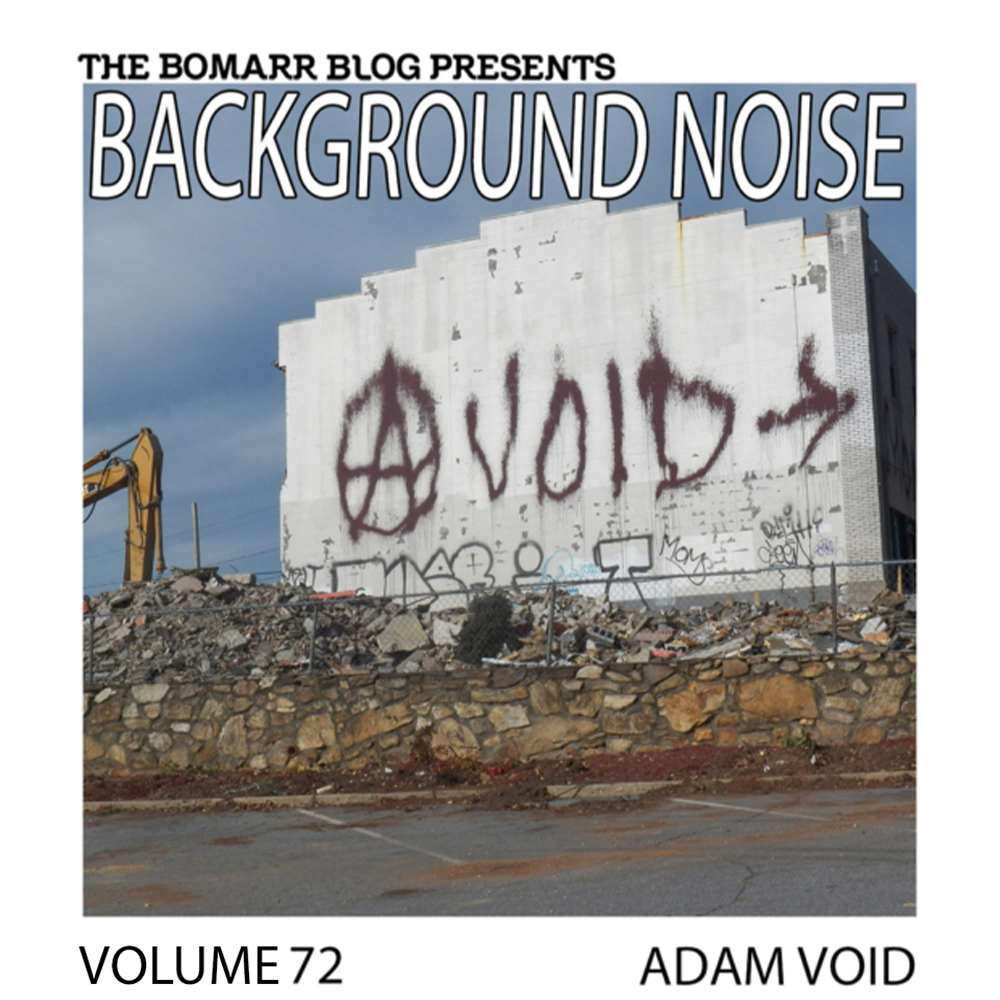 THE BACKGROUND NOISE SERIES FOCUSES ON THE MUSIC THAT ARTISTS LISTEN TO WHEN THEY WORK, WHAT MUSIC INSPIRES THEM, OR JUST MUSIC THEY LIKE. THIS WEEK IN VOLUME 72, THE FOCUS IS ON ADAM VOID.
Adam Void is an Outsider. He lives on the edge of a mountain in the green paradise of Appalachian North Carolina with his wife, Chelsea Ragan, and his daughter. He has been making art in the public sphere since 1998. He has been politically active from childhood, spending a moment every day to take a jab at the dominant, oppressive, racist, misogynist, elitist, capitalist, police state of contemporary culture. He has been blessed to visit 40 of these United States (mostly by freight train or ride share) and has determined that the people of this country vary widely by region, and are only united through this thing called Popular Culture. He is very interested in understanding how art/music/literature that is counter to this culture can use the distribution methods of popular culture to subvert the system. He has also made noisy music since 1997, the most recent of which can be found here.
What was your first concert?
REM (Green Tour) – April 25, 1989 – Carolina Coliseum, Columbia, SC
I was very young, but the fact that REM was from the South was not lost on me. I quickly got into the B52's, Flat Duo Jets, and Pylon. My parents had me when they were teenagers, so they were kinda hip and cool. I saw the B52's with Tears for Fears pretty early on too. We were into the early 90s environmental movement of recycling, anti-Styrofoam, and anti-CFC's. I grew up political-minded with an emphasis on Southern American counterculture.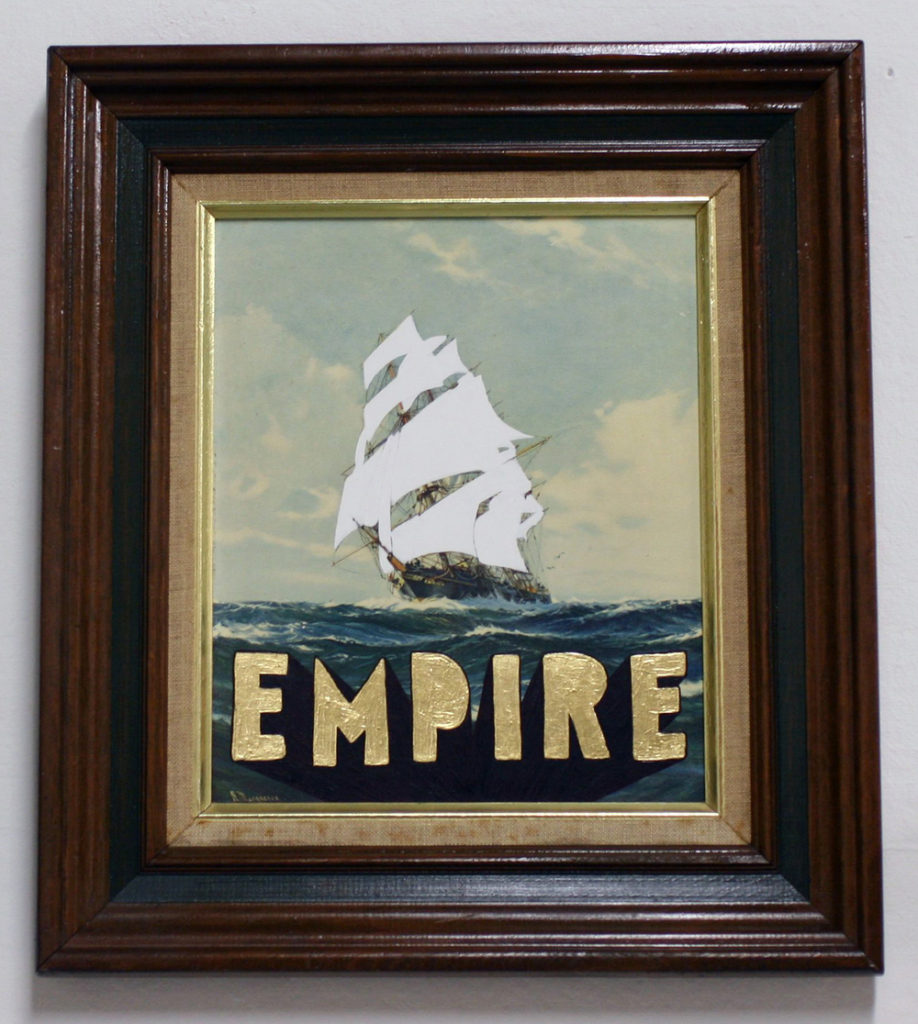 Last concert/show?
Jefferson Mayday Mayday, Secret Boyfriend, Yohimbe, Sagan Youth, and Adam Void – December 2014 – Meadows of Dan, Carrboro, NC
My lifelong friend, Jefferson Mayday Mayday, asked me to play this show with him during his recent trip to the US from Sydney, Australia. Sadly, I haven't been able to afford to see many of the great shows that have come to Asheville recently. Neutral Milk Hotel, Kraftwerk, Panda Bear, and Daniel Johnston have all asked for over $30 a ticket. Add to that, the fact that I am the father of an eight-month-old baby. No time.
First album you bought?
New Kids on the Block, Hanging Tough – 1988
What can I say, I bought into the popular current of those bad boys, the New Kids. I saw them in concert too, slightly after the REM show. It was pretty impressive to see Donnie Wahlberg hanging by one hand off of an elevated cage while singing a pop song. There were lots of girls there too.
Last album you bought?
Laurie Anderson – Mister Heartbreak or Bell Biv DeVoe – Poison single
I mostly listen to cassette tapes that I find at the pay-by-the-pound thrift store in Asheville, NC. This way, what I hear is a coincidental luck-of-the-draw based on what people are throwing away at any time. I mostly put them in my pocket as I walk around the store, but sometimes I pay fifty cents apiece for them.
Was there one record that made a significant impression on you?
Nirvana – Incesticide
I was a devoted Nirvana fan with the whirlwind of Nevermind and the cultural upheaval that followed, but Incesticide managed to strike a much different chord in my mind. It was the most under-produced recording I had heard to date, blending pop with noise in an infectious, chaotic mess. From there, I better understood Devo, the Vaselines, the Pixies, Daniel Johnston, and Sonic Youth. Going down the rabbit hole. And the artwork…. I still wear my original Incesticide shirt, and sadly just got a bunch of black paint on it from a recent spot with Fishglue NGC. 🙁
Who is your musical hero?
Black Flag (as a whole)
Through all the line-up changes, they managed to create the independent distribution, touring, and promotion network that became the vehicle for the late 80s to early 90s US underground. They created what's understood as Hardcore, and then abandoned the cliche to experiment with spoken-word, instrumental jam, and metal-edged sounds. All this plus the amazing artwork of Raymond Pettibon and publicizing through graffiti and wheat paste.
May I also say that I would not be the same artist today if it were not for the musical impact of a single individual, Joe Ahearne. I met Joe in Brooklyn during the Summer of 2006. He had recently taken over curatorial duties at the original Silent Barn and had just launched (in partnership with Todd P) a monthly publication of underground music shows called Showpaper. I was, and still am, amazed by the creative energy and DIY ethos embodied in Joe. He introduced me to all the sounds of my four years in New York; Secret Project Robot, Dead Herring, Death by Audio, the Woodser, Goodbye Blue Monday, and later, Shea Stadium. This man is a creative and organizational genius.
How important is music to your creative process?
Music is essential to my creative process.
I got into graffiti through promoting for my high school punk band, Plain Crash. We would follow Black Flag's model by spray painting controversial slogans and wheat pasting fliers on telephone poles of rural South Carolina side streets. Nowadays in my studio, I jam crackly thrift store mix tapes, and on the way to the spot, I've been rocking this amazing rarities album from the Cure titled Concert and Curiosity.
Black Flag – Spray Paint the Walls (1981)
Circle Jerks – Deny Everything (1980)
The Choir Quit – MBUR (2010)
Sonic Youth – Mildred Pierce (1990)
Nirvana – Tourette's (Live 1992 – Reading Festival, UK)
Japanther – Radical Businessman (2009)
Neutral Milk Hotel – Holland, 1945 (1998)
The Germs – Forming (1981)
The B52's – 52 Girls (Live 1980 – Capitol Theatre, GA)
Skull and Dagger – GPS Atlantis (2014)
Rage Against the Machine – Freedom (Live 1996 – Munich, DK)
In/Humanity – Against All Youth (1997)
Check out Adam's playlist below on Spotify. Be sure to like Background Noise on Facebook for updates on future episodes. You can browse ALL the Background Noise episodes right here.