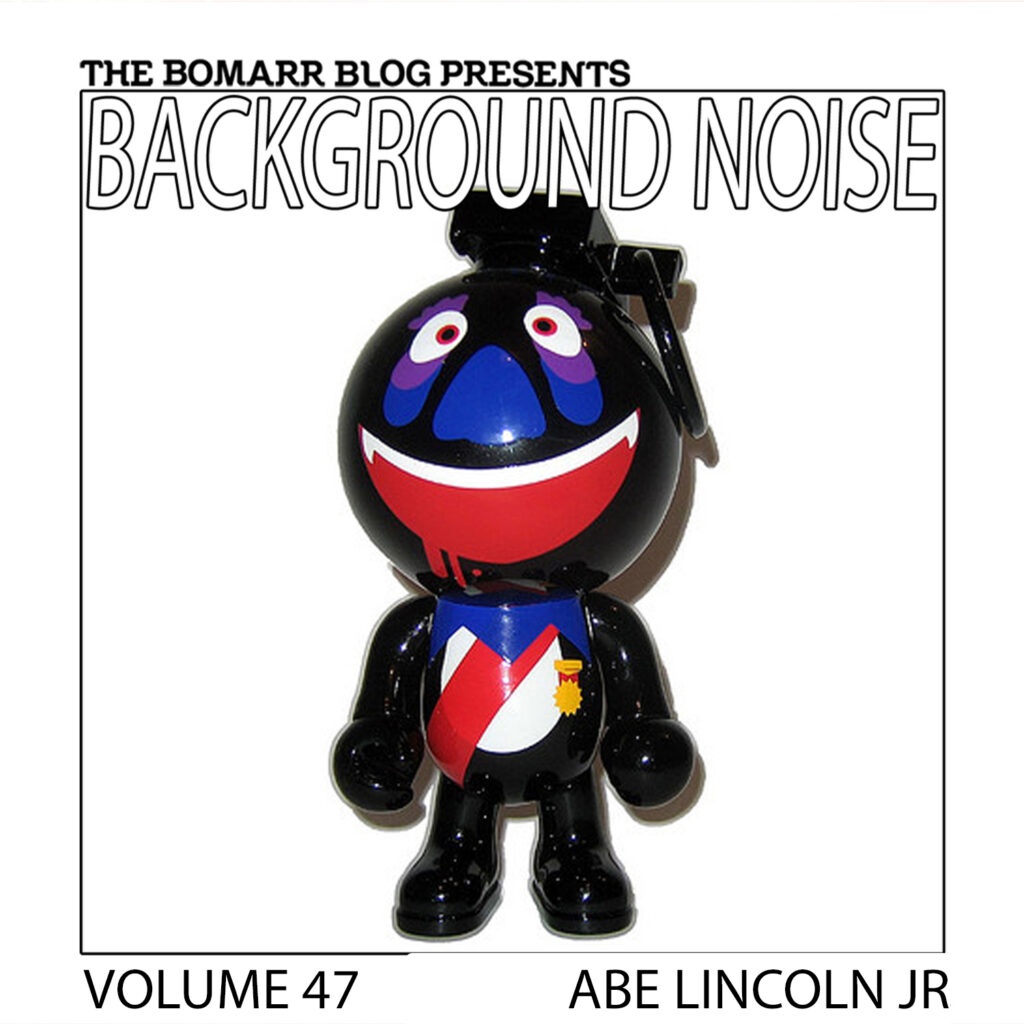 Abe Lincoln Jr is a man of many hats. Abe Lincoln Sr was a man of many hats as well. Actually, wait a minute, no he wasn't, he just had that one top hat, right?
Anyway….as far as I know, Abe Lincoln Jr. does not have any relation to our 16th president, but he DOES specialize in various forms of artistic expression. A self-taught artist, he paints, he draws, he makes stickers, t-shirts, trading cards…you name it. Most notably, he's made custom toys for Kid Robot, custom Chuck Taylor's for Converse, and even made a custom Spy Vs. Spy toy for Mad Magazine.
Honestly, that's just the tip of the iceberg. You can find a lot more of his work, including information about Fugue State Records, his fictitious extreme music record label,  over at his website girlsbike.com 
What was your first concert?
Man it was terrible, it was like a Monsters of Rock of shitty bands. Here we go from opener to headliner:
Night Ranger
Bryan Adams
Eddie Money
Triumph
and Journey
I just wanted to go see Eddie Money lol.
Last concert/show?
I saw Watain at the Brooklyn Bazaar, we got soaked in rancid pigs' blood! It was repellant at the time however I love Watain and my fellow fan club members threw the blood I thought before the show "Eh I've seen Gwar, what's the big deal' once I got splashed and the smell hit the audience it was super gnarly. However I am a member of the Black Metal Militia so I was like "lean into it dude!" and had a great show. It really stunk though.
First album, tape, or cd you bought?
First Album I bought was Kiss Alive II, first 45 was Keep Your Eye on the Sparrow ( Baretta Theme) by Sammy Davis Jr.
Last album you bought?
I got Spotify now, so mainly I use that but if I really love a band I'll throw down $ so they can keep making music. I think the last one I bought was  Drudukh's Autumn Aurora
Was there any album that made a significant impression on you?
Tons, The Big Boys, Lullabies Make the Brain Grow was my teenage lifesaver record, The Dicks – Kill From the Heart, Thrasher Skate Rock Vol. 1, Slick Rick – The Great Adventures, Wu-Tang Clan -36 Chambers, Nick Cave – Your Funeral My Trial, and most recently The Clash – Combat Rock
Who is your musical hero?
Depends really, Marvin Gaye and George Clinton on the smooth side and Randy Biscuit Turner and Gary Floyd on the punk side, Dio and Halford for metal/rock.
How important do you think music is to your creative process?
It really informs my work more than inspires me. That said I started a new series of NYC Street Scenes I launched at Secret Walls, that series is becoming known as "Ghetto Defendant" and is directly inspired by The Clash's Combat Rock. It's an amazing record really, it's an unpopular choice among old punks like myself but I listen to The Clash's Disco stuff way more than their "punk" stuff.
Prelude – Judas Priest
Tyrant  – Judas Priest
Hsingen Blues – Graveyard
Vänd Tillbaka – Horisont
High Society – Spiders
Sweet Magic Pain – Spiritual Beggars 
Northern Star – Grand Magus
Full power – High Spirits
Immortal Man – Holy Grail
I Am Death – Skeletonwitch
Malefitor – Watain
Prime mover – Ghost
Genesis – Ghost
extra credit:
Ghetto Defendant – The Clash
Check out Abe Lincoln Jr's playlist below on Spotify. Be sure to like Background Noise on Facebook for updates on future episodes. You can browse ALL the Background Noise episodes right here.