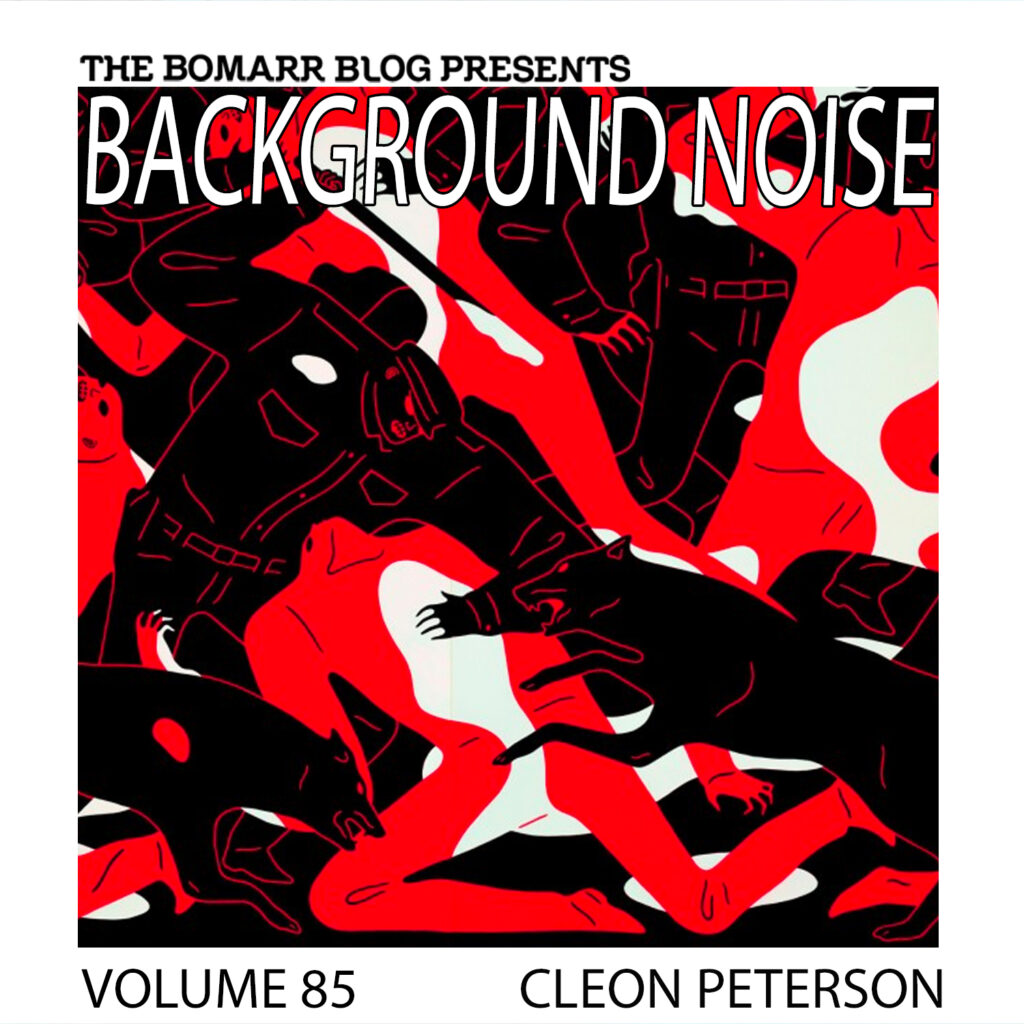 Back in 2013, I decided to start a project. I've always been curious about what kind of music inspires visual artists in the studio or on the street. It's rare that I come across artists who work in total silence, so I figured I'd start asking artist friends and friends of friends to put together "mix tapes" of music that inspires them. Hence, Background Noise was born.
Well, after taking a break at 84 episodes, just over 5 years ago, I've brought it back for another go.
And what better artist to re-launch the project with than Cleon Peterson? At a time when a global pandemic brought the world to a screeching halt and civil and political unrest is at the forefront of everyone's minds, Cleon's work couldn't be more poignant.
His work has always had barbaric elements to it, but not until recent years did it veer more toward what appears to be the American political system. Often using red and black (in Western culture, known to some as the most "sinister" colors), he addresses topics that are front and center today: police brutality, corporate greed, white supremacy, inequality, and presidential failure, using very strong visuals to get the point across.
I'm absolutely honored that Cleon was so willing to participate in this project, and he came through with a slew of excellent songs spanning many decades from some classic boundary-pushers. From the Velvet Underground to Nick Cave, Fugazi to Leonard Cohen, it sets a dark but fitting tone to accompany the visuals.
First album you bought?
First album I bought was Synchronicity by the Police. I was on a trip with my grandparents and brother in Victoria, BC. My grandparents got my brother and me Sony Walkmans and 1 tape each. The guy at the music store gave us recommendations. I got the Police's album and my brother Leigh got Michael Jackson's Thriller.
Last album you bought?
I'm on that weird subscription thing now so I'm not buying albums anymore but the last one I did drop money on was Ty Segall's, Manipulator.
First concert?
I think the first concert I saw was James Brown in Seattle. We didn't pay to get in but watched him play from a freeway overpass.
Last concert?
Last music I saw was Perry Farrell play at my buddy Shepard's birthday party. This was really, really great.
Was there one album that made a significant impression on you?
When I was 12-13 I was obsessed with the Talking Heads. Loved the postmodern kinda art-like play they did with the music. Second most impactful was the Velvet Underground. They were gritty and in some way, their music acknowledged the world I felt like I was living in.
Who is your musical hero?
I like Leonard Cohen's deep thought, I like Randy Newman's cynical wit and social criticism, I like John Cale's ugliness and beauty. Lots I like about many more. Don't know if I really have a hero but there's a lot of good stuff out there.
How important is music to your creative process?
It's one of many things that give me ideas. I'm a word guy. I can't listen to music that doesn't have words and I can't listen to music with dumb words. I can listen to dumb music with words though.
BONUS: Is there any music, in particular, getting through this strange time we're living through?
John Lennon's solo albums are especially good listens right now. Gotta love him, outspoken, not scared to share personal stuff, not scared to stir things up or look bad, and at the base of all that he came from a broken place and shared his soul, not just some bull shit facade. I like that, people that let you in.
"Beginning to See the Light" – The Velvet Underground
"Gimme Some Truth" – John Lennon
"He Hit Me (It Felt Like a Kiss)" – The Crystals
"Antarctica Starts Here" – John Cale
"Avalanche" – Leonard Cohen
"You Know More Than I Know" – John Cale
"Moon Rocks" – Talking Heads
"Booming And Zooming" – Tom Tom Club
"Democracy" – Leonard Cohen
"God's Song (That's Why I Love Mankind)" – Randy Newman "I'm So Tired" – Fugazi
"Small Axe" – Bob Marley
"The Mercy Seat" – Nick Cave & The Bad Seeds
"Blue Skies" – Willie Nelson
"Enjoy The Silence" – Depeche Mode
"Beware Of Darkness" – George Harrison
"Hit the City" – Mark Lanegan
"Touch Me I'm Sick" – Mudhoney
"Pay To Cum" – Bad Brains
"Life" – Dr. John
Check out Cleon's playlist below on Spotify, or subscribe to Background Noise via the iTunes podcast feed here. Be sure to like Background Noise on Facebook for updates on future episodes. You can browse ALL the Background Noise episodes right here.