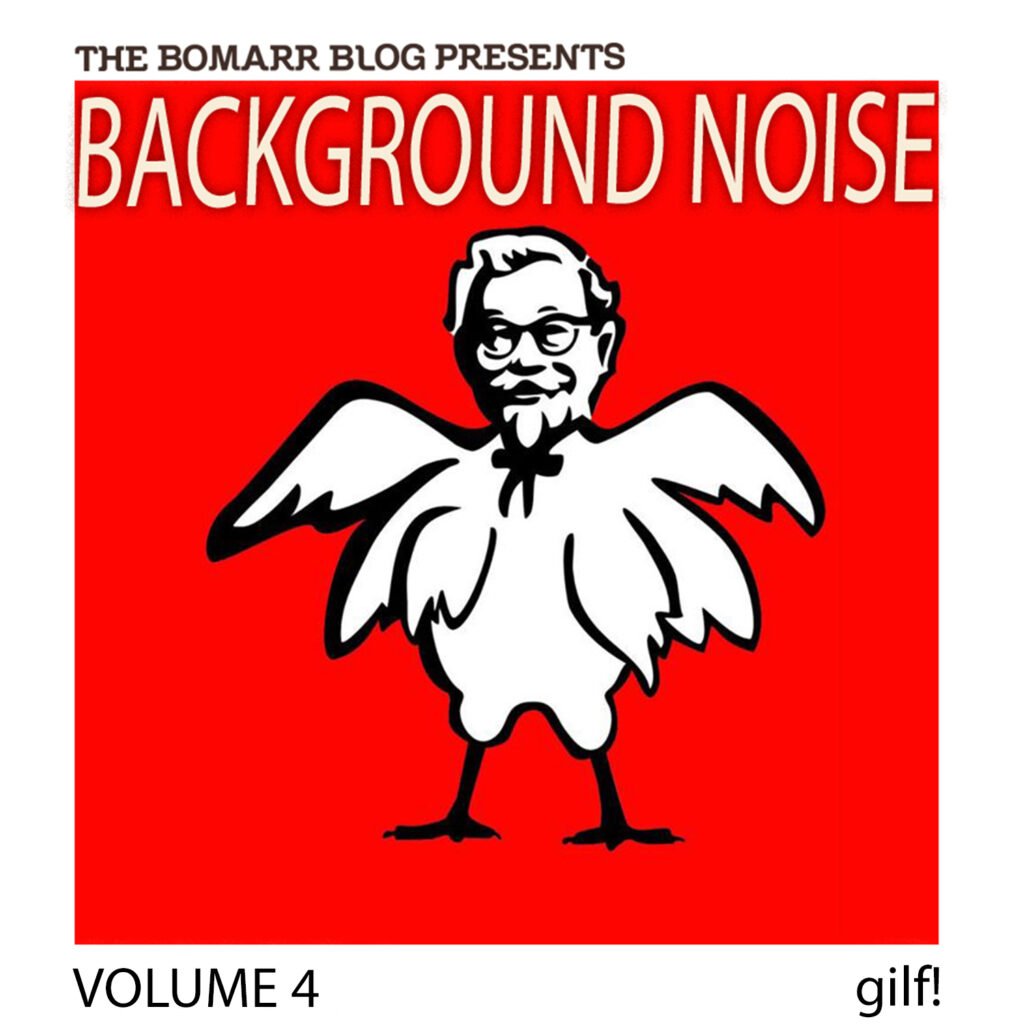 My new "Background Noise" podcast series focuses on the music that artists listen to when they work, what music inspires them, or just music they like. This week, in Volume 4, the focus is on Brooklyn's gilf!
Brooklyn artist gilf! has frequently caught my eye. I've seen her work in some group shows on the Lower East Side, and she participated alongside Ron English & Hanksy in "The Art of Comedy", where the 3 artists did pieces in NoLita in 2012 to coincide with the New York Comedy Festival. The above piece, featuring a genetically-modified Colonel Sanders with six wings,  was one of her more memorable pieces from "The Art of Comedy". Like most of her work, this piece had a bit of social commentary to it. In addition to it being humorous, and fitting right in alongside the parody that Hanksy was doing (more on him in a future podcast), it still addressed the unnatural modification of the fast food that people worldwide consume on a daily basis, something that needs more awareness. She modified an iconic image to make people laugh, but also think. 
According to gilf!, her goal is to create art that provokes thoughtfulness and motivates a change in the zeitgeist. A portion of each sale of her artwork is donated to a charity specific to that image, when applicable. After the Fukushima disaster, she put up stencils of a young Japanese girl with a face mask on and a number below it that you could text to donate $10 to the Red Cross to help victims. 
Her work is not strictly outdoors though. gilf! works in many different mediums. From modified eyesight charts to cases of Coca-Cola that look like baby bottles. Her work is not something that you can just look at and walk away from. Sometimes you really have to stop and look closely to figure out what it says, and then interpret it how you will, but either way, it makes you think. 
gilf! took great joy in compiling this mix, as, like many other artists, music is a big part of her life. 
What was your first concert?
I saw Boyz II Men open for MC Hammer when I was 9
Most recent concert?
Recently, I was putting some work up one night when a dear friend called me and said "Prince is playing a secret, last-minute show at City Winery tonight. I have an extra ticket. You have twenty minutes to get here".I showed up covered in glue and have never been so present ever in my life. It was mesmerizing and allowed me to experience what it is to truly enjoy the moment. I've always struggled w appreciating live performances but realized with this show, being in an intimate space and only 10′ from one of the most epic performers of our time, small venues are the way to go. I will forever be grateful for that experience. 
First album/tape or cd?
Oh god, I don't know- my stepmother at the time owned a radio station so I was fed incredibly awesome and equally horrific 80s & 90s pop music via cassette for years. If I had to guess it was Everything by the Bangles.  
Last album you bought?
La Bala by Ana Tijoux- I first heard her work on one of the musical breaks of Democracy Now. She has an incredible story and I love how it influences her work.
Was there any one album that made a significant impression on you?
Debut by Björk- it was haunting and honest and spoke directly to my place in the world when my siblings shared it with me. 
Gorillaz – "Welcome to the World of the Plastic Beach" (feat. Snoop Dogg)
Massive Attack – "What Your Soul Sings"
CocoRosie – "Smokey Taboo"
Fugazi – "Sweet and Low"
Radiohead – "Lotus Flower"
Chopin by Maurizio Pollini – "Op. 10, No. 12, in C Minor, 'Revolutionary'"
DJ Shadow – "Mongrel Meets His Maker" (Sonotech Mix)
Ana Tijoux – "Sacar la Voz" (feat. Jorge Drexler)
Tricky – "Does-It"
Foo Fighters – "Bridge Burning"
Danny Elfman – "Breakfast Machine"
Empire Of The Sun – "Swordfish Hotkiss Night"
Prince & The Revolution – "Let's Go Crazy"
See more of her work over at gilfnyc.com
Check out gilf's playlist below on Spotify. Be sure to like Background Noise on Facebook for updates on future episodes. You can browse ALL the Background Noise episodes right here.