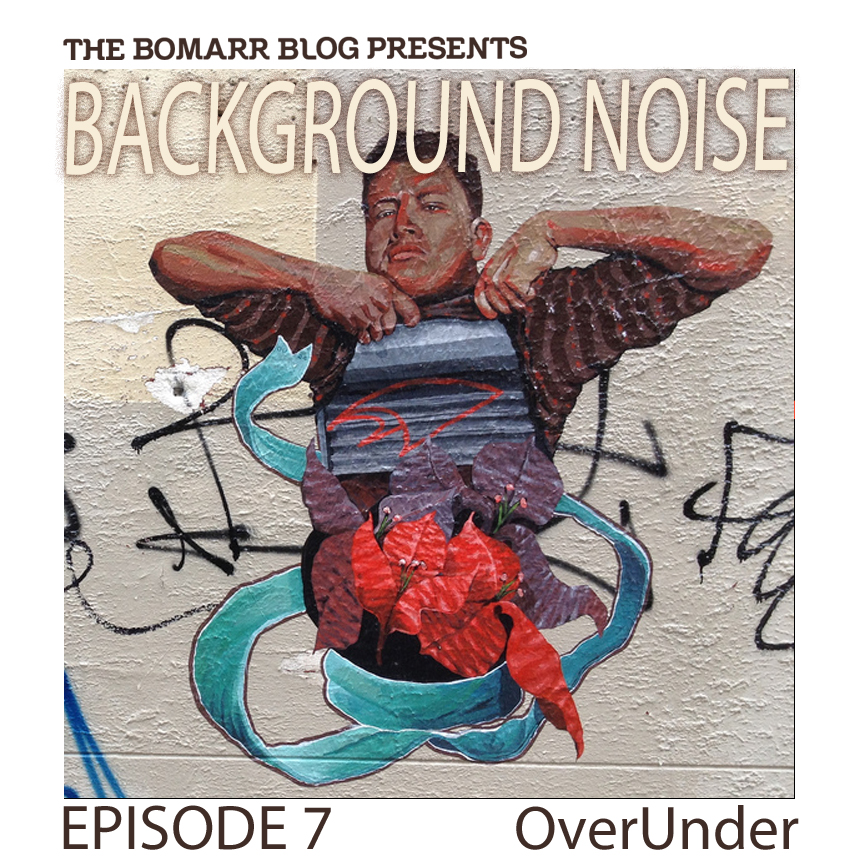 My new "Background Noise" podcast series focuses on the music that artists listen to when they work, what music inspires them, or just music they like. This week, in Episode 7 the focus is on Reno, Nevada-based artist OverUnder .
Another artist I saw a lot of when I first moved to New York. Enough so, that I thought he lived in the city. Not until recently did I find out that he's located in Nevada.
OverUnder's work initially caught my eye due to his simple tags throughout Brooklyn and Manhattan featuring an almost manta ray-esque design that was often accompanied by a random phrase (the latter being something that had, around the same time, drawn me to the artist Jim Joe). Sayings like "the best things in life are feed", "follow the gutter to the pot of Krylon", etc. These pieces would appear in doorways, on empty walls, and frequently on USPS mailing labels slapped up throughout the city, and would often only really make sense to OverUnder himself.
After seeing these around for a bit, I started noticing more of his work in different mediums. More complex pieces of art, sometimes painted, sometimes wheatpasted. Always very colorful and eye catching. One of these first pieces I noticed was an impressive collaboration with his friend ND'A, which appeared on the side of an abandoned shipping container at 4th and Bowery in Manhattan.
OverUnder seems to love to travel. Whether he's building an living in a cabin in Brooklyn, biking across Europe while creating work for an exhibition at the final destination, or his most recent travels to Mexico City, it seems like he's always on the move. Oh, and he works with youth arts programs as well. What's not to like about this guy? I've never met him in person, but I already know that he's a great guy with a big heart. He's got great taste in music as well, which you can hear in his contribution to the Background Noise series below.
What was your first concert?
Jefferson Starship at the Fillmore in SF. I was 9, my brother 7 and My parents couldn't get a babysitter so they brought us along and we got so contact high.
Last concert/show?
2Chainz. Worst show. Could have scalped the tickets for $300/each but my niece demanded we go. And Jefferson Starship even chiefed harder than 2Chainz and crew.
First tape/cd or LP?
Elton John "Goodbye Yellow Brick Road" on tape.
Last album you bought?
Rodriguez "Cold Fact" on vinyl as a gift from my girl. Last album I downloaded was Danny Brown "Old".
Was there any one album that made a significant impression on you?
Minor Threat "Complete Discography"
You can check out more of OverUnder's work over at his website, or follow him on Instagram.
Stream his episode below, subscribe on iTunes, or listen on Mixcloud.
The Bomarr Blog Presents: The Background Noise Podcast Series, Episode 7: OverUnder by Bomarr on Mixcloud