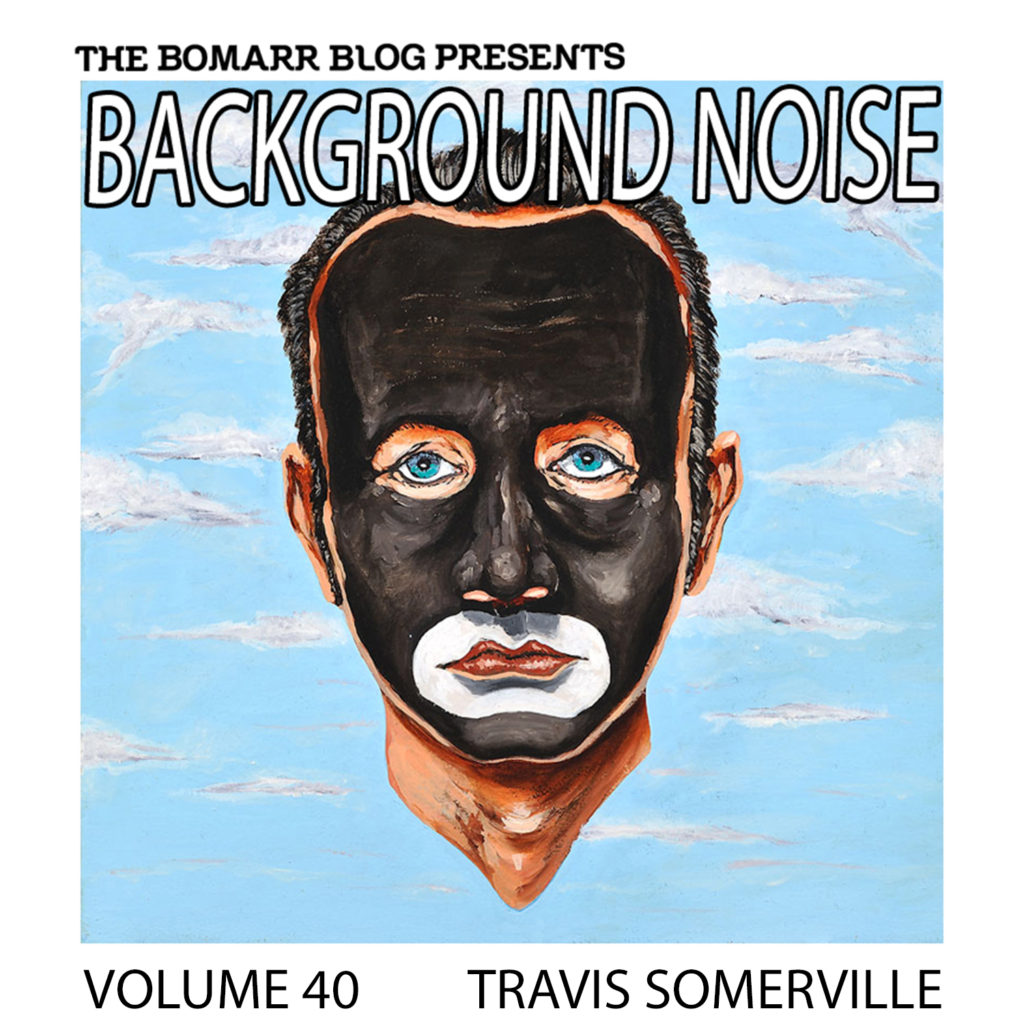 Travis Somerville's work is challenging. The art he creates is deeply rooted in his southern Christian upbringing. Born in Atlanta in 1963 to civil rights activists, he experienced racial tension firsthand, something that obviously made a lasting impression on him. He's been incorporating all of this into his work for 25+ years now, although his home base has been San Francisco for quite some time.
The overall theme of his work is oppression and greed. When he juxtaposes his work onto particular surfaces, they seem to become even more powerful than if they just stood on their own. For example, his Independence Day series, which places Work Projects Administration images of African-Americans on authentic cotton-picking sacks. The Work Projects Administration was the former federal agency that existed from the mid-30s to the early 40s and employed millions of unemployed people (mostly unskilled men) to carry out public works jobs.
Or The Love That Forgives, a set of 4 wooden school chairs, each depicting the face of a young girl who died in the 16th Street Baptist Church bombing in Birmingham, Alabama in 1963. This event was a racially-motivated act of White Supremacist terrorism and a major turning point in the Civil Rights movement.
His Born Into It piece is particularly powerful. A collection of 12 canvas bank bags, each with a graphite painting of a slavery-era African-American, causing you to really think about the connection between old money and slavery, and how many slaves simply had no choice in the outcome of their lives, they were born into it. It's all up to the individual's interpretation though.
I personally love his work. And this mix he put together is impressive. It's interesting to see the work he chose for this. Ranging from good ole Americana to rootsy blues, to the more gritty Killing Joke, PIL, and The Jam songs. It's a fun ride.
What was your first concert?
I grew up going to see folks like Linda Ronstadt and Kris Kristofferson but the first one I got to choose was America. I think it was my 10th birthday.
What was your last concert?
Merle Haggard with Dave and Phil Alvin.
What was the first album you bought?
Jackson 5 Goin Back to Indiana (I really wanted one of their jumpsuits on the inside cover to wear to school)
What was the last album you bought?
Tom Petty. Hypnotic Eye. Good ol' rock n roll again.
Was there one particular record that made a significant impression on you?
Sex Pistols Never mind the bollocks here's the…… Could also say London Calling. I bought it as an import when it came out. They both were turning points for me musically and socially.
Who is your musical hero?
Elvis. Is there any other?
How important is music to your creative process?
I listen to it all day in the studio. I would say music and film have a huge influence on my work. Most of my friends are musicians, artists are too hard to hang out with.
1. Shovels and Rope – The Fall of Charleston
2. Jim Carroll Band – People Who Died
3. PIL – Analisa
4. Chuck Prophet – Willie Mays is Up at Bat
5. Faces – Ooh La La
6. Killing Joke – S. O. 36
7. Rolling Stones – Star Star
8. Ramones – 53rd and 3rd
9. Junior Kimbrough – Release Me
10. The Jam – Billy Hunt
11. J. Geils Band – Must Have Got Lost
12. Lou Reed – Strawman
13. Black Angels – The First Vietnamese War
14. Dave and Phil Alvin – Key To The Highway
15. Mott The Hoople – I Wish I Was Your Mother
Check out Travis's playlist below on Spotify. Be sure to like Background Noise on Facebook for updates on future episodes. You can browse ALL the Background Noise episodes right here.