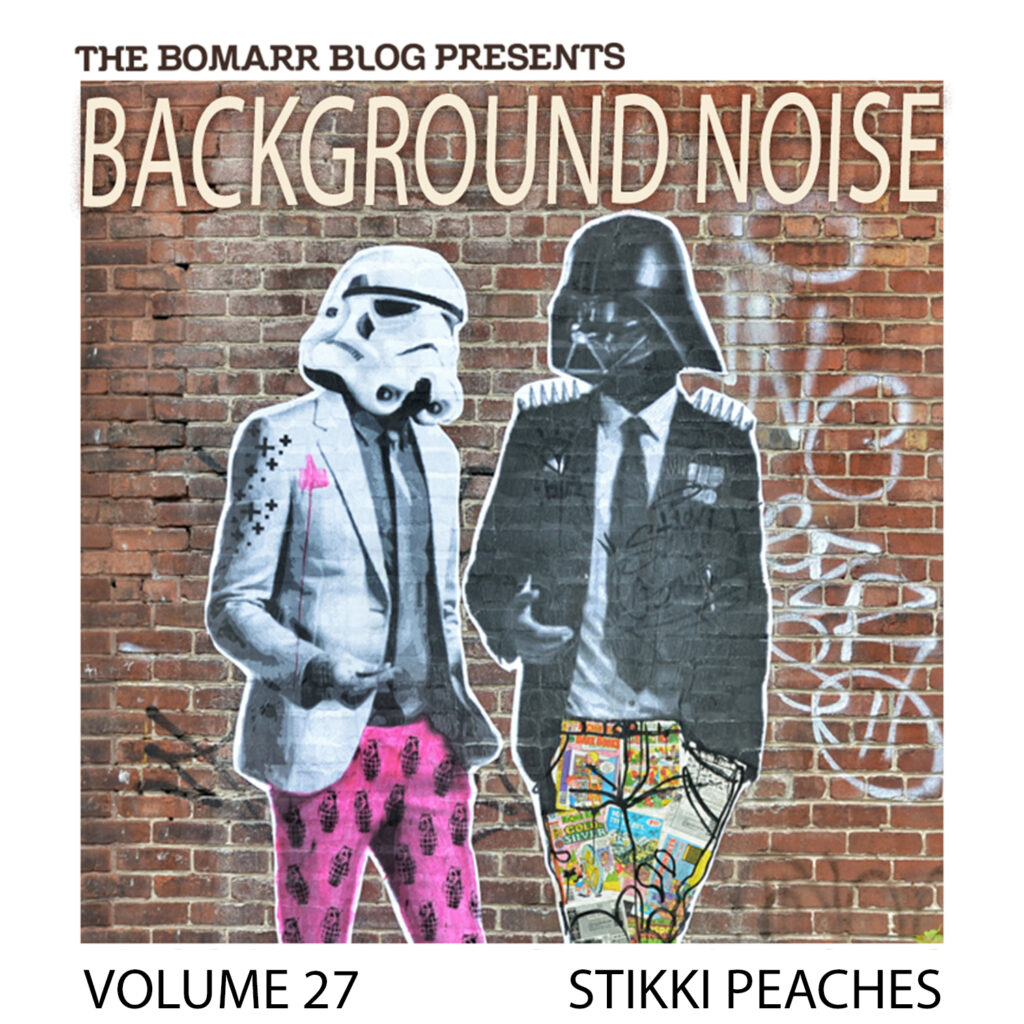 Stikki Peaches is a street artist out of Montreal. His work is often pop culture-based, using well-known imagery that we all know and love. One of his best-known characters, known as "Bat Bond", blends the Caped Crusader's head with James Bond's body, with some spiked shoulder pads and a gun with a flower in it for good measure. This piece is usually accompanied by a question that Stikki asks frequently in his pieces: "What if art ruled the world?"
You'll find that he also has a penchant for Star Wars. Darth Vader's helmet and the Stormtrooper helmet have become iconic images in their own right, but Stikki takes them another step further, juxtaposing them with men in suits, usually with some form of bright pants on.
His work is eye-catching from afar, but he adds yet another layer to his work to make it that much more interesting. He'll frequently fill in the faces of his pieces with hand-written words and drawings, sometimes looking like facial tattoos that might look like a bunch of scribbles until you get closer and see words like "hope", skulls and crossbones, diamonds, "troop life" and more. Or for some extra color in the pants, he'll paste in some colorful comic book pages, and sometimes lays out stickers given to him by his friends in the street art scene to create hair or other features on his work.
Stikki has risen fast in the Montreal street art scene and shows no signs of slowing down. He'll always get his stuff up when he visits NY as well, and people are taking notice.
Check out more of his work here, as well as his Tumblr, and buy some of his art via the great folks at Station 16.
What was your first concert?
U2
Last concert/show?
Jay Z, Holy Grail
First album, tape or cd you bought?
Thriller vinyl (Still have it!)
Last album you bought?
Kissland (The Weeknd)
Was there any album that made a significant impression on you?
Kiss (Psycho Circus) I was crowd surfing and unexpectedly ended up onstage.
How important do you think music is to your creative process?
I couldn't imagine working with no music either in the background or plugged in my ear. It helps me get lost in my work, no other distractions. It's like an escape. The music comes on, the creative juices start flowing and before you know it, you've created magic, all because of those good vibes running through your veins 🙂
Volume 27 tracklist:
Bonobo – First Fires
Blakroc – What You Do To Me
The Weeknd – Wanderlust
Bob Marley – Three Little Birds
Radiohead – Creep
The Bad Plus – Sing For A Silver Dollar
Nirvana – Come As You Are
The Roots – The Seed 2.0
The Killers – This River Is Wild
Frank Sinatra – You Make Me Feel So Young
Arctic Monkeys – Fluorescent Adolescent
Oasis – Hello
Check out Stikki's playlist below on Spotify. Be sure to like Background Noise on Facebook for updates on future episodes. You can browse ALL the Background Noise episodes right here.
COMING NEXT WEEK…………HOW + NOSM