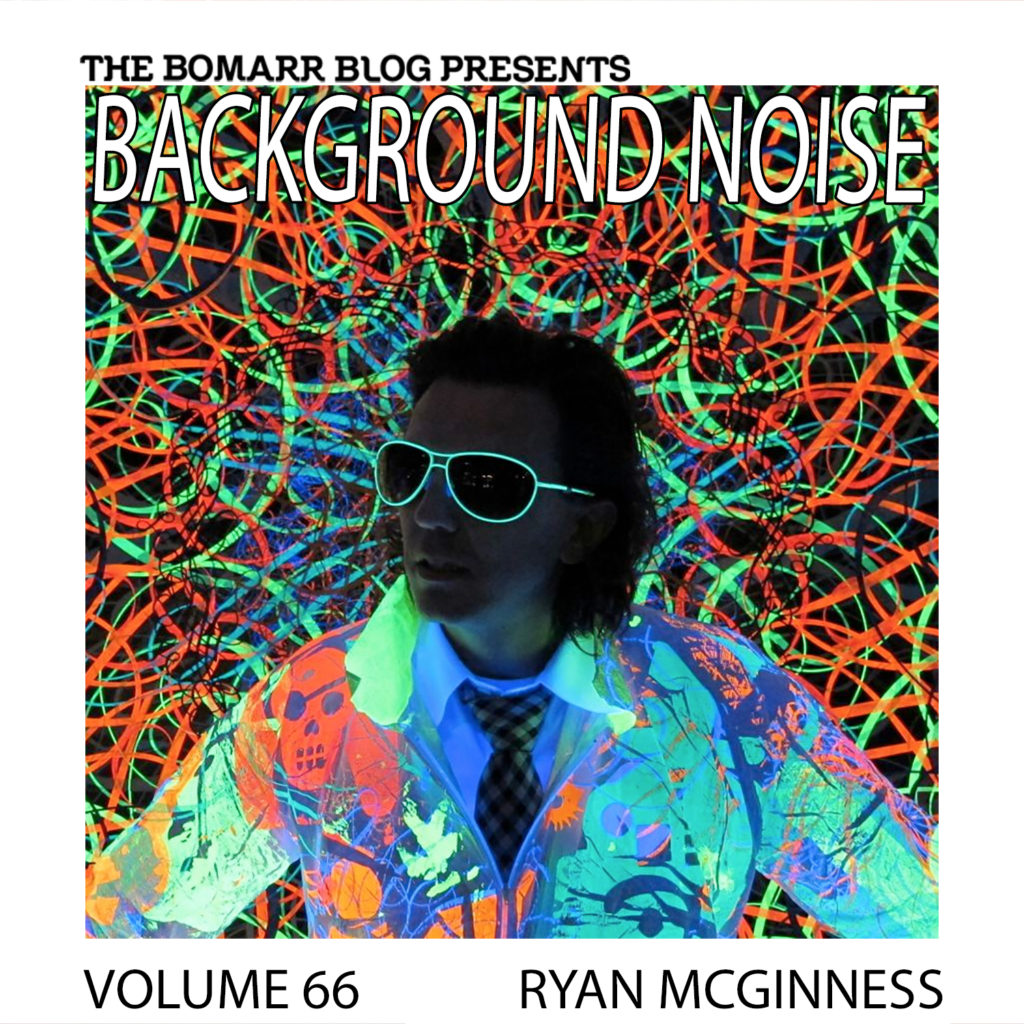 The work of Ryan McGinness is often chaotic. His beautifully complex, brightly-colored and nearly kaleidoscopic imagery is layered and layered, each icon melding with the next. It's hard to make sense of it all, but judging by Ryan's quiet, but seemingly quite intelligent demeanor, there's most likely at least SOME sort of method to the madness.
Ryan spent his early years growing up in Virginia Beach, VA. Inspired early on by the surf and skate culture of the area, he absorbed the work of early skateboard designs, with designer Rob Roskopp's decks particularly standing out. This is most likely what inspired him to start studying art. He studied at Carnegie Mellon in Pittsburgh, where he was able to fine-tune his love of symbols, patterns, and public signage.
He has since developed a visual language that is all his own. In addition to these intricate screenprints and paintings, he sometimes takes a more minimalistic route. Stripping away the chaos, he sometimes lets his odd designs breathe a bit, leaving them by themselves, open for interpretation. Designs that don't look complex from afar, but when you really get close, they seem to tell entire stories.
 Not long ago, he was commissioned by the New York City Department of Transportation to erect 50 signs around New York City. These signs featured the previously mentioned stripped-down designs, looking more like regular street signs, created with waterjet-cut aluminum with a few layers of vinyl. Unfortunately, due to their popularity, nearly all of them were stolen off the street before they really got the exposure they deserved.
He's surely made a name for himself and has come a long way since that first piece of original art he sold for $40 in sixth grade.
First Album You Bought?
Reach the Beach by The Fixx
Last Album You Bought?
Washarama by The Judy's
First Concert?
The Jesus & Mary Chain and P.I.L.
Last Concert?
Beck & Flaming Lips
Is There One Album That Made A Significant Impression On You?
They Might Be Giants (First Album)
Who Is Your Musical Hero?
Lou Reed
How Important Is Music To Your Creative Process?
We listen to music all day in the studio.
Lou Reed – Perfect Day
The Cure – Boys Don't Cry
Beach Boys – God Only Knows
Pulp – Common People
Stone Roses – I Wanna Be Adored
Devo – Mongoloid
Jesus and Mary Chain – Taste of Cindy
Joy Division – Love Will Tear Us Apart
Flaming Lips – Do You Realize?
Zombies – Time of the Season
The Chills – Pink Frost
Stone Poneys – Different Drum
Simon & Garfunkel – Sound of Silence
Check out Ryan's playlist below on Spotify. Be sure to like Background Noise on Facebook for updates on future episodes. You can browse ALL the Background Noise episodes right here.