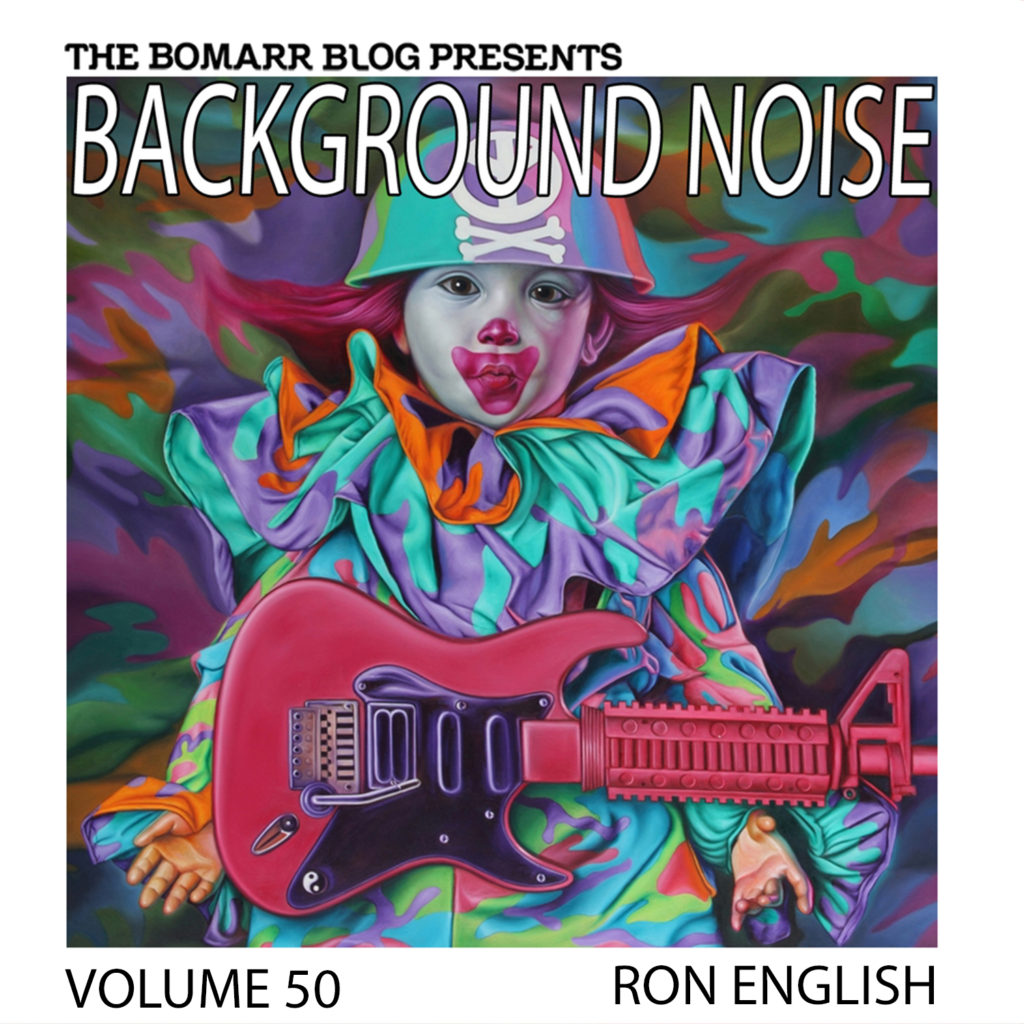 The Background Noise series focuses on the music that artists listen to when they work, what music inspires them, or just music they like. this week, for Volume 50, the focus is on artist Ron English.
Chances are, you're already familiar with Ron English's art, even if you may not have known it. The extremely prolific artist, born in Dallas, TX and now residing on the outskirts of New York City, has infiltrated all sorts of artistic mediums throughout the past few decades.
If you saw Morgan Spurlock's award-winning 2004 documentary Super Size Me, you've most likely seen Ron's MC Supersized character, an obese Ronald McDonald stuffed to the brim on his own brand of food. Or maybe you've seen his Abraham Obama, a visual mashup of our 16th president and Barack Obama. That iconic Abraham Obama image was originally painted as an oil painting, and then images of the oil painting were turned into limited edition prints, and sold to raise money for the Obama 2008 campaign.
English is a respected street artist, fine artist, toy maker, and musician. He did an album with Daniel Johnston, collaborated on a toy with Pearl Jam, and has done album art for artists like Slash and Chris Brown.
He's a legend in his own time, and to say I'm honored to have him commemorate the landmark 50th Background Noise episode would be an understatement.
What was your first concert?
Three Dog Night. Probably not the hippest first concert. My parents brought me and my best friend. They held their hands over their ears during the entire show. But there you go. You only get one first concert. When my daughter came of age I tried to make sure her first show was hipper than mine so I brought her to see Mindless Self Indulgence. Definitely hipper than TDN, and since LinZ the bass player was my sometime assistant, we got to go backstage and meet the band. LinZ took my daughter Zephyr to the merch booth to get her some free stuff. The obsessed fans clawed at LinZ as we pushed our way through the crowd, some girls even shoved their tits at LinZ to get them signed. A lot edgier than the Three Dog Night experience. Later when my son Mars came of age I got him into a Linkin Park show where we had backstage passes and special seats on the side of the stage. Linkin Park was his favorite band so it was quite a coup.
Last concert/show?
The last concert I saw was The Dandy Warhols in Seattle. I have been missing them by one or two days in various cities for years so finally we found ourselves in the same town on the same night. I brought Mel, my partner in the Popaganda clothing line, who only likes Hip Hop. He agreed to come along if I agreed that we would leave after two songs. He ended up staying for the whole show. He was very impressed. These days we mostly see shows now at the Town Crier here in Beacon. Phil the owner is a good friend of mine so he always lets me know when something good is going on. Tonight it is an Elvis impersonator. I once had the chance to see the real Elvis but I passed. Thought he was for old folks. Three Dog Night, now that was a band I was all in for. Oh well.
First album you bought?
Black Sabbath Vol. 4. Before that I only bought singles. Albums seemed stupid, I mean they release all the good songs on singles, right? My cousin Robin disproved this theory by playing The Doors Strange Days for me.
Last album you bought?
I don't remember. Does downloading count? In that case, the last two full "albums" were Dandy Warhol's This Machine and Pearl Jam's Lightning Bolt. These days I mostly download individual songs. Full circle.
Who is your musical hero?
Wow, there are so many. I guess if I had to pick one all-time musical hero it would be John Lennon. Most people just think what they're supposed to think and create what they think they are supposed to create and if it's controversial it's inside the bounds of accepted faux controversy. It's scary to really go out on a limb with a little truth and honesty. Usually doesn't turn out well.
Was there one album that made a significant impression on you?
Probably more live performances. I remember seeing The Polyphonic Spree and thinking afterward, "I just can't be the same person anymore. I have to step up my game."
How important is music to your creative process?
People are usually surprised that I don't listen to music when I paint. It messes with my concentration. I am involved with music personally. Check out my band The Electric Illuminati on iTunes. I have also written songs with other artists including Wammo, Sara Hickman, Daniel Johnston, Mojo Nixon, and The Sutcliffes to name a few. Every now and then I get to do an album cover. The last two were for SLASH and Chris Brown.
Tracklist:
We Still Hate You, Yoko, by the Sutcliffes
Signs by the Electric Illuminati
Mr. E's Beautiful Blues, by the Eels
Lights Out by Mindless Self Indulgence
Disney is the Enemy by Mojo Nixon
The Little Things You Give Away by Linkin Park
Nth Degree by Morningwood
Enjoy Yourself by the Dandy Warhols
True Love Will Find You in the End by Daniel Johnston
Turquoise House by Jim White
Pop God by Illness
Democracy by Leonard Cohen
Your Hands (Together) by the New Pornographers
Check out Ron's playlist below on Spotify. Be sure to like Background Noise on Facebook for updates on future episodes. You can browse ALL the Background Noise episodes right here.