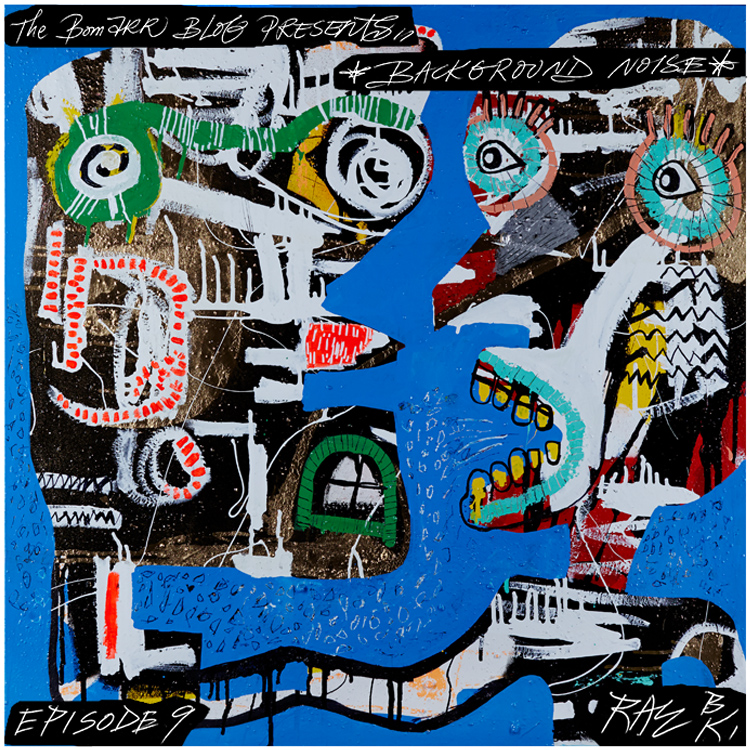 Brooklyn artist RAE is another artist who doesn't limit his creations to just one particular medium. His work ranges from small stickers to large paintings to sculptures made from anything he can get his hands on. He's said that sometimes he will even walk the shoulder of the highway looking for parts that have fallen off of cars so he can incorporate them into his art. No matter what medium he's working in, his work is always colorful, and more often than not, contains elements of his trademark characters like the ones you see above.
He's also pretty ballsy. He has told the story of how he was almost busted by the cops when installing his first street sculpture. The cops rolled up on him mid-installation and asked what he was doing. He stopped and told them that he loved the piece of art and just had to have it, before he suggested to the cops that maybe he should leave it up, to which they agreed and let him "put it back", not realizing that they were allowing him to install it right under their noses. And then there's the sculpture that he installed in the middle of the day at an undisclosed subway stop in New York. It's been up for quite some time, and it looks so professional and fitting that nobody has ever questioned it. Every single time I use this train station, I smirk to myself at how awesome it was that he pulled that off.
This past fall, RAE took over an East Village bodega for a month. He transformed the mostly-empty bodega into a makeshift art gallery where his various works (again, sculptures, paintings, stickers + more) were the main attraction, with a few bagels and whatnot tossed in to make you remember that you were still in a bodega. It was a very impressive display of his work. It's things like this that make you realize that RAE is the type of artist that is always pushing himself to try something new.
Music is very important to RAE, and I'm very thankful for the kind words and enthusiasm he's had for this Background Noise project. He even asked to design his own image for the podcast (seen at the top).
Read a few words from RAE, and listen to his excellent mix below.
What was your first concert/show?
Lisa Lisa and The Cult Jam. I was about 11 years old, it was at the Knights of Columbus a few blocks from my house in Brooklyn. My friends and I were there trying to meet girls and writing on the walls.
Last concert/show?
The National in Brooklyn.
First album, tape or cd?
Doug E Fresh – "The Original Human Beatbox" I still have the record but it has lost its grooves in one area from me scratching with it so much. 
Was there any one album that made a significant impression on you?
Rage Against The Machine's "Battle Of Los Angeles". Of course, it started with their first album and the song "Killing In the Name" but the entire "Battle Of Los Angeles" Album has a laser beam-focused angst that points directly at the injustices of big corporations, the denial of dark events that took place in US history and the "screw the people" attitude of government in general.
Who is your musical hero?
Lee Scratch Perry. Eclectic innovator.
If you have anything to add about why you chose the songs you did, go for it…
For this mix, I choose songs that are good to listen to in the rain.  It was raining when I chose the tracklist.  If it was hailing I would have gone in a different direction.
Theophilus London – "Humdrum Town"
James Brown – "Down and Out in New York City"
Gregory Isaacs – "Night Nurse"
New Order – "Your Silent Face"
Gang Starr – "Work"
Notorious B.I.G. – "Interlude Freestyle Clip"
David Bowie – "China Girl"
The Fugees – "Vocab (Refugees Hip Hop Remix)"
PJ Harvey – "The Garden"
K. Frimpong and His Cubanos Fiestas – "Kyenkyen Bi Adi M'awu"
U2 – "The Unforgettable Fire"
Gang Starr – "Mass Appeal"
The Psychedelic Furs – "Highwire Days"
SBTRKT – "Hold On feat. Sampha"
James Brown – "Doing the Best I Can"
Marianne Faithfull – "Broken English"
Check out RAE's playlist below on Spotify. Be sure to like Background Noise on Facebook for updates on future episodes. You can browse ALL the Background Noise episodes right here.