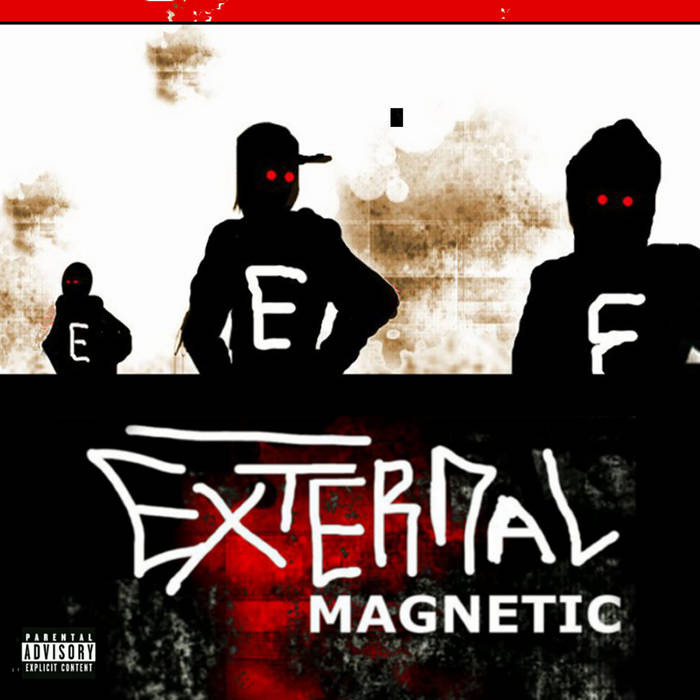 Back in September of last year, Odd Nosdam (cLOUDDEAD, Reaching Quiet, etc) quietly released a 16-track record that could have easily been a long-lost hip hop classic. The record, External Magnetic, is a full-length collaboration with prolific Maryland MC/producer/illustrator/writer/video director Tokyo Cigar.
Tokyo's been at it for over a decade now, putting out self-released/self-produced mixtapes and albums, often themed based on the sample material, whether it's Depeche Mode, Wu-Tang vs the Batman score, or a straight-up tribute to producer David Axelrod.
Nosdam has many raw Bomb Squad head nod moments on External Magnetic. Some of it is hard and aggressive, some of it is stony and subdued. The "Horsepower" skit featuring the revving engine of a motorcycle or muscle car is particularly hypnotic. The record as a whole is very loose and seemingly came out of nowhere after these two hit it off so well together.
The record is available digitally, as well as on limited edition cassette (with a few exclusive bonus tracks).
Was there a specific vibe you guys were going for?
ON: Not sure how Tokyo would answer this, but I just wanted to work on some raw-ass rap shit. I have tendencies to overproduce my productions – and after finishing my album Mirrors – I was feeling like OK I've done enough ambitious projects throughout my career and felt it was time to get back to more spontaneous stuff which is how my Flippies series came about and my most recent ep, HOME.
Anyway, I saw the Weird Rap post on Tokyo which compelled me to check out his work. First tune I heard was "1986", which immediately impressed me. The beat is so loose that it made no sense to me but he flows so cleverly over it I was like yo I need to reach out to this dude. I believe the 1st album I sent him was GLASS CUTTERS, then I passed him Flippies. We just hit off.
Also, I had just been abruptly evicted from my wonderful studio space and was feeling pretty angry – then Covid hit,.. all that said, I felt inspired to do some clever fuck you shit with tuff-ass beats. Tokyo caught the vibe/energy right away, so we ran with it
TC: Nah, not really. It was super organic. He either sent me joints, and I rhymed on them or I grabbed a couple joints from his beat tapes and went in. After a while, I noticed we had a lot of raw, dusted, stripped-down Marley/Ced Gee/Paul C-type aura sonically so I decided to call the album External Magnetic based on that. That came after we had a bunch of stuff already done. We did know that it was gonna mainly be some raw, spontaneous stuff, but there was never really any planning beforehand.
What appealed to you most about each other's stuff when you first heard it?
ON: Just his approach to production & his rhyme skills. He's a very prolific smart & interesting dude to say the least. He's also a great storyteller.
TC: I loved how his drums would smack but his samples would have a lot of personality in them and give a real visual journey-type feel. I knew about him from checking Anticon stuff earlier on and after we linked; he put me on to a lot of his stuff that I missed. I would always be blown away and his stuff just brought something out of me as an MC. When I rhymed over his beats, I hit a level that I consider my best and it was so consistent as we made the album that it was crazy.
How long did the record take from that first email to completion?
ON: Not sure exactly, maybe 6 months? All the beats on the album were already in the can. I sent him a grip to choose from; he picked what he wanted, so I just sat back, smoked weed, and waited for his vocals. I took a very quick mixing & mastering approach to keep the raw spontaneity intact.
TC: From about April to like July/August. Everything was real fast. The first joint we did was "Ultra" and everything else was like a blur. He would send me stuff and I would just snap. The crazy thing is that we were never in the same room. It turned out that we both were completely focused on using spontaneity while making this album.
Which artists do you get most of your inspiration from? (Lyrically, production-wise, visually, whatever)
TC: RZA is a huge part of my musical foundation. 4th Disciple, Havoc, etc. Lyrically Wu, Non-Phixion, Roc Marciano. MF Doom, KA, etc. I tend to like a lot of MCs that kinda rhyme in a coded way. I always liked using some brain power to break down what someone is saying in their rhymes. I also came up on comic books and anime, movies like Kill Bill, and stuff like that for the visual side.