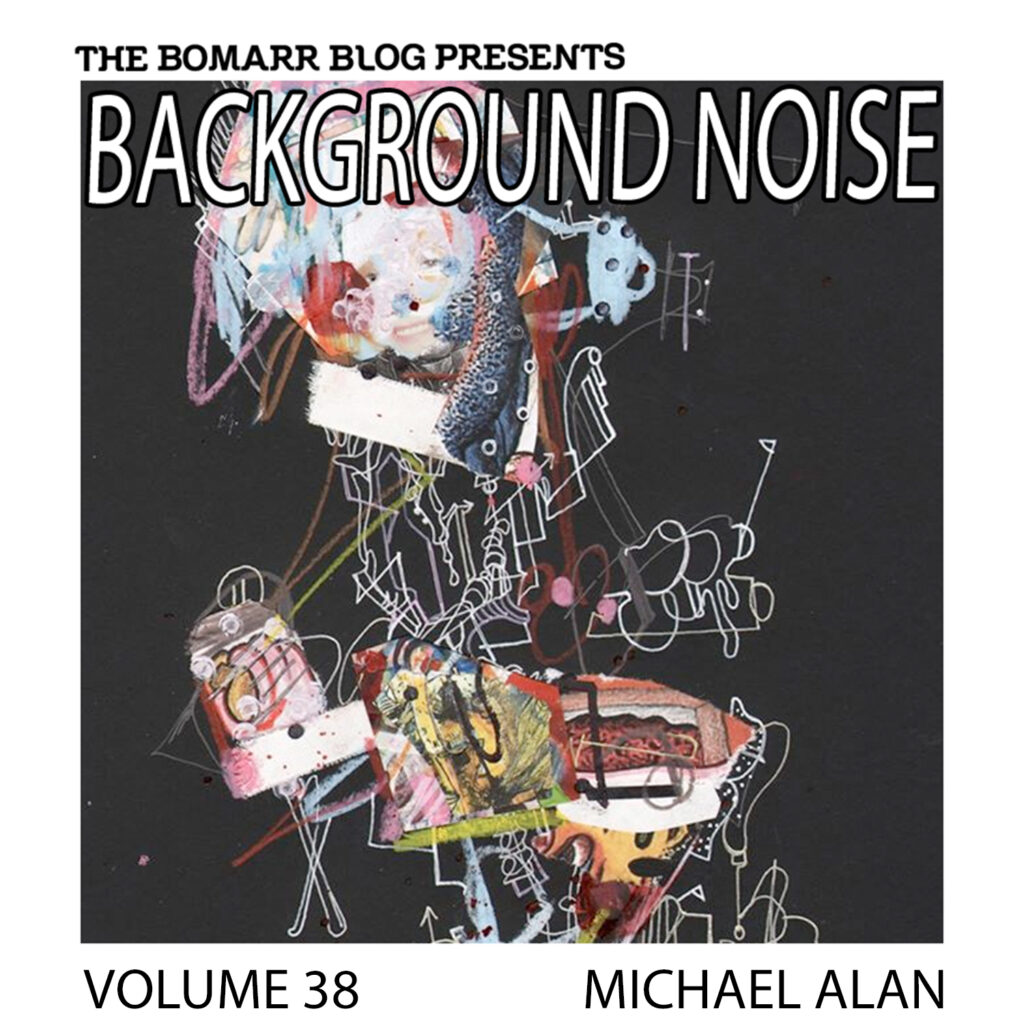 Michael Alan never stops. Seriously. Never stops. He is constantly creating. The few times I've seen him out at art shows, he's had his small box of various pens and a pad of paper and is calmly socializing with fellow artists and friends, while drawing at the same time. Calmly is the key word here, as calm is not exactly what you would expect the demeanor of the artist that creates this type of work to be.
His work is obviously cathartic. Now more than ever. The guy has a lot on his plate these days. Not too long ago, he was diagnosed with Deep Venous Thrombosis (DVT), which is a blood clot that forms deep inside a part of the body and can be very dangerous. This comes in addition to a few years of major health issues, including a broken spine. The man is constantly on the mend, channeling what sure must be an entire world of emotions into various forms of expression. Whether it's drawing, painting, sculpture, or music, he's got it all covered.
For the past 11 years, he's become known for his "Drawathons", which have now morphed into something he's dubbed The Living Installation, which is a series of performance pieces where Michael transforms event spaces and various brave participants into living, breathing pieces of his art. I've never caught one in person, but they look amazing. He has one coming up on October 18th in Brooklyn. More info can be found here.
In addition to all of this, he's released a few albums of his music, often featuring an impressive roster of respected artists and musicians as collaborators. In addition to my former roommate/former label-mate Odd Nosdam, he's released collaborations with Jello Biafra, Ariel Pink, Jeff and Jane Hudson, The Boredoms, and Kenny Scharf, to name a few. You can check out some of this music over at his Bandcamp and Soundcloud pages.
What was your first concert?
Hmmmmmmm……..D.R.I…
Last concert?
More into small punky shows, and DIY stuff. Saw Fake Hooker play in Brooklyn, it was very good.
First album, tape, or cd?
Crass!!! Record!!!
Last album you bought?
MB Neuro Habitat yesterday
Was there one album that made a significant impression on you?
I'm a music collector, that's what motivates a lot of my paintings……..I can't say one…..or the other……I can say, the Residents, Crass, ODB…..for sure
Who is your musical hero?
O.D.B
How important is music to your creative process?
Water for the bod
1. "Sunset" Skullflower
2. "Read Only Memory" Chrome
3. "Sad to Be" D.R.I.
4. "Good Day Today" David Lynch
5. "I Got the Gun" Drunks With Guns
6. "What Hit You" Dwarves
7. "Oreo" Eric Copeland
8. "The Money Will Roll Right In" Fang
9. "Life Is Cheap" Flipper
10. "Reunited" Ol' Dirty Bastard
Check out Michael's playlist below on Spotify. Be sure to like Background Noise on Facebook for updates on future episodes. You can browse ALL the Background Noise episodes right here.