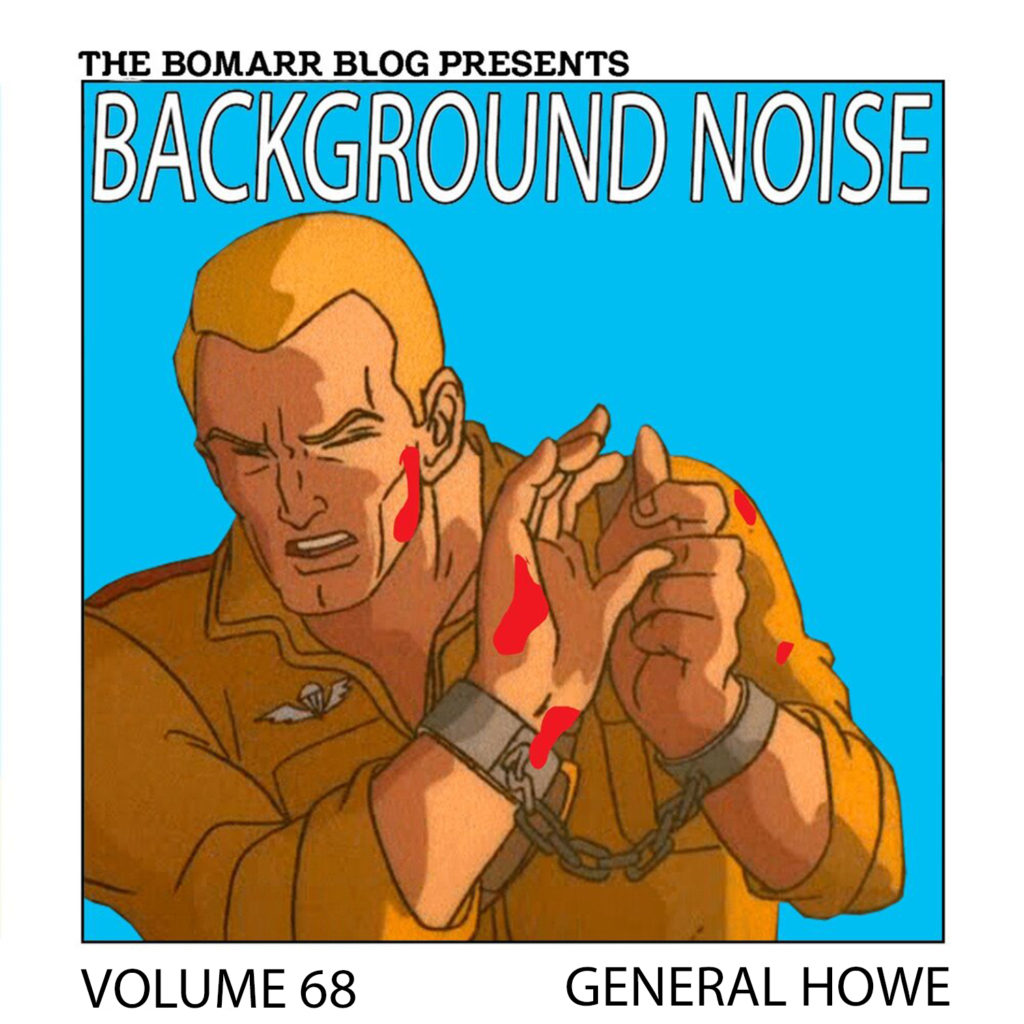 I stumbled on artist General Howe strictly via the internet. I'm not sure if it was via Tumblr or Instagram, but I was initially drawn to his animated Disasters of War GIFs. The GIFs depicted war cartoons, mainly of the GI Joe variety, either looped at significant moments in order to relay a message or digitally altered to tell a different story. (You can see a whole bunch of these amazing pieces of digital work here).
When I first reached out to him to do an episode for this series, I hardly knew much about him aside from these particular works. It wasn't until I did a bit more research that I stumbled on just how much General Howe really does. Turns out, it doesn't exist solely on digital servers and personal computers….he's done a whole slew of installations on the street. Whether it's wheat pastes, or little plastic army men set up in the streets of Brooklyn, he's on a mission to remind people about the casualties of war and the fact that there are still wars going on in this beautiful world of ours.
I decided to dig a little deeper and find out what makes the General tick:
Where are you from, originally?
I grew up in Northern Virginia. A place called Reston.
I'm primarily familiar with your GIF work. How much do you find you manipulate the GIFs? Or are you finding quick snippets from cartoons that have significance, and highlighting them? I guess I'm curious more about that process. Maybe you even draw them entirely from scratch! Would love to know more.
The Gifs are mostly borrowed from GI Joe and Rambo cartoons from the 1980s. Some of them are untouched and I just find the perfect moments to loop. Others like the 9/11-specific gifs involve lots of manipulation and collaging of imagery. I'll draw in blood and guts, change colors, or eliminate parts of a figure or background to simplify and make the message more clear. Reacting to the imagery is the root of the process. I'm also reacting to war, history, culture, current events, and my own condition. The recent short film I made (Hector Delgado Has PTSD) took the gifs a step further.  I took whole scenes of animation and dialogue and re-edited them to tell a story of war. This process could definitely be pushed further. (Check out Hector Delgado Has PTSD below):
I've read a bit about your Battle of Brooklyn project. Is that still ongoing, or have you wrapped that up?
The Battle of Brooklyn work went on from 2007-2011 and then I left New York for three years. It was primarily a site-specific street art project so it made no sense for me to continue it elsewhere. If I hadn't left New York I may not have gotten into all the gif work which has been really exciting. Now that I'm back I'm deciding if I want to continue the B.O.B. or close that chapter. New York has a way of making those decisions for you. To be determined is my official answer.
What other type of work do you do? I'm fascinated now that I've learned that you do so much more than GIF art.
Man, I do almost everything. I studied painting in art school so everything I do is approached as a painter. I just returned from three years of isolation in Wisconsin. I did tons of drawing and big sloppy painting. I also learned how to do the gifs while there. In the last two presidential elections, I've merged the candidates with the Batman mythology. That's been realized through silkscreen, street art, a fake news blog, zine, stickers… In the four years of working on the B.O.B., I did installations, silkscreens, linocuts, some clay pieces, mixed media, and a mural.
What's next for you project-wise?
This is the big question for myself right now. I have a 3-d printing idea that I really want to execute. Glitch paintings. The animated Disasters of War still has a lot of potential. Keep learning and pushing new technology. While in Wisco I made big strides in my process and understanding of painting, and I don't want to lose that. Hopefully, I'll find a way to get a space and keep that going. I might have a show next year and that might force a particular direction to be focused on. I'm definitely at a crossroads right now.
First album you bought?
First album(s) I bought were NIrvana- In Utero and Snoop Dogg – Doggystyle. On cassette! The comic in the Doggystyle album was so clever.
What was the last album you bought?
S.S. Brooklyn by Loyd H. Miller. It's a sing-a-long album for my 2-year-old son. It's good, one song has a reference to the Battle of Brooklyn.
First concert?
First concert was a Red Hot Chilli Peppers show and Foo Fighters opened for them. My friend had an extra ticket and invited me, I owe him big time for that.
Last concert?
I had a student who played in a school-of-rock kind of band covering classic rock songs. Some of his performances were the last shows I saw.
Was there one album that made a significant impression on you?
Maybe the Nirvana Albums. I used to listen to them all the time as a kid. The Unplugged album. As an adult, I can never get enough Wu-Tang.
Who is your musical hero?
My friend Pam Reyes is a young artist and musician pursuing a music career. I'm humbled to know and follow her on the journey. She's my musical hero.
How important is music to your creative process?
When I need to grind out a long laborious physical piece I'll have music playing. Shuffling music is perfect for me, the constant contrast of genres keeps me from getting too comfortable or complacent. For a recent short film I made, I researched and listened to music that was used to torture inmates at Guantanamo and Abu Ghraib prisons. A list of some of those songs is what I chose to present for this Background Noise episode.
The Torture Playlist
1. Eminem – The Real Slim Shady
2. Dope – Take Your Best Shot
3. Bee Gees – Stayin Alive
4. Meow Mix Theme
5. Marilyn Manson – The Beautiful People
6. Queen – We Are The Champions
7. Metallica – Enter Sandman
8. AC/DC – Hell's Bells
8. Barney – I Love You
9. Bruce Springsteen – Born in the USA
10. Sesame Street Theme Song
Check out General Howe's playlist below on Spotify. Be sure to like Background Noise on Facebook for updates on future episodes. You can browse ALL the Background Noise episodes right here.