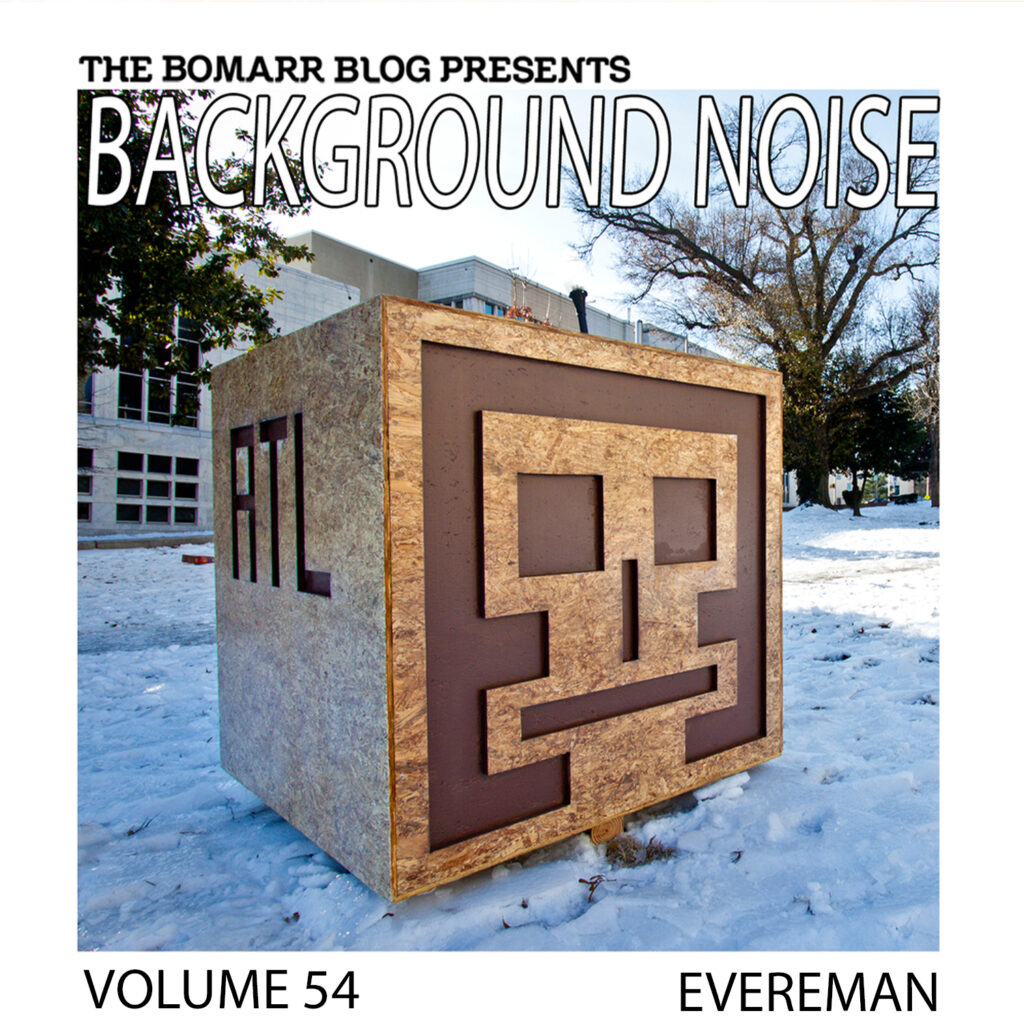 Atlanta-based artist Evereman stays true to his name. Jay Wiggins, dubbed the "grandfather of the Atlanta free art movement," by some, describes his alias as something that stands for "art for all of us." He's been giving his art away on the streets for some time now. Although he's been making art for 34 years, long before it was called "street art," Jay has only been doing art as Evereman since 2003, something that has come to be a study of human social interaction. By using magnets, hooks, and gravity to hold his work in place, he encourages interaction with his little creations.
It was this approach that initially got my attention a few years ago. On a regular morning walk to the gym, I spotted one of his tiny (approximately 1"x1") square robotic faces magnetically placed on some scaffolding in the East Village. Naturally, I grabbed it, studied it, and then looked it up when I got back home to find out what "Evereman" meant. I was fascinated to learn that he built his whole aesthetic around giving away and sharing his art. In a world where many artists are out to earn a quick buck, it was very refreshing to learn that someone was doing it out of pure love.  He's said himself "I think of the Evereman project like a 21st-century folk song. Take it, use it, add to it, twist and turn it, reconfigure it, pass it along."
Initially, Jay started making his blocks and distributing them with his kid after breakfast. Just a simple, fun, family hobby. It quickly blossomed into something much more than that. At this point, Jay claims to have placed around 30,000 pieces of Evereman art. Who knows if he'll ever stop. 
First concert?
Edgar Winter when the song "Frankenstein" was on the radio. Perhaps my first intro to synthesizer sounds. Loved a synth since. I even have a few.
Last concert?
Flew out to Denver (to check out the landscape there) and see Bob Dylan and His Band.
First album you bought?
The Beatles – Revolver
Last album you bought?
Modeselektor – Monkeytown
Was there one album that made a significant impression on you?
A Woody Guthrie record I picked up when I was about 15 years old sealed my fate as an artist and as someone who would seek my own way regardless.
Who is your musical hero?
Woody Guthrie, hands down
How important is music to your creative process?
I love music, I play music, and I listen pretty much constantly when I am working in my shop. I have been a furniture designer/maker for 25 years. Wood. Started working with steel a couple of years ago. Doing some sculptural work these days.
Evereman is a musician himself. Check out, Muleskinner MacQueen, his trio of 5 years with Sam McPherson and Naomi Lavender, which he describes as "nothing too polished or fancy."
Captain Beefheart – I'm Gonna Booglarize You Baby
Ennio Morricone – Per qualche dollaro in piu
DJ Shadow – Building Steam With A Grain of Salt
Johnny Cash – Hurt
Kraftwerk – Radioactivity
The Band – To Kingdom Come
Neil Young – Revolution Blues
Lee "Scratch" Perry – Wake the Dead
The Carter Family – Worried Man Blues
Desmond Dekker – Israelites
Woody Guthrie – Will You Miss Me?
Check out Evereman's playlist below on Spotify. Be sure to like Background Noise on Facebook for updates on future episodes. You can browse ALL the Background Noise episodes right here.