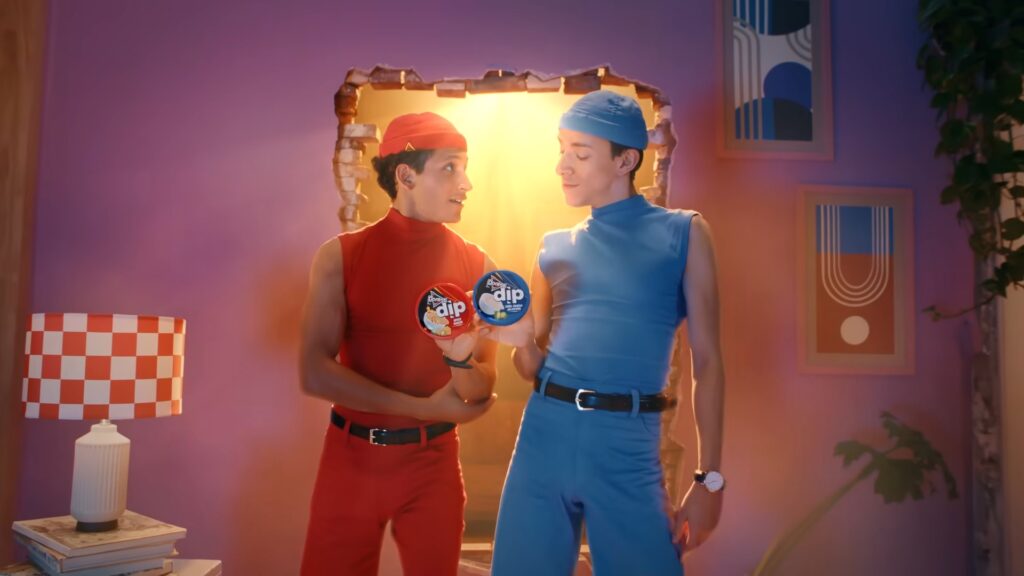 Judging by the upload date on the Doritos YouTube channel, it seems this commercial debuted during (or around) Super Bowl LVII. I did "watch" the Super Bowl, but I use that term loosely since I'm mainly there for the snacks and commercials anyway…which I guess makes me the target audience for this ad.
Mix up a new take on a classic 80s new wave song from Devo with some new Doritos dip bowls…what could go wrong? Well, mostly that a little part of me died inside as I watched this. Sure, it's not surprising at this point. "Whip It" is an integral part of pop culture, whether it's the catchiness of the song itself, the iconic energy dome hats (replicated here as colored beanies), or the silly MTV-era music video, this was bound to happen.
This isn't the first time "Whip It" has been recycled for advertising. Australian underwear brand Bonds has used it, Gateway computers, and even Swiffer…where the chorus features the line "Swiffer's good". Watch here.
Here's Devo's Mark Mothersbaugh eating Doritos in the presence of Ice-T, just because:
Just look at these lyrics though:
"Grab that dip,
give those lips a lick.
Looking for a snack,
like that pizza in the back.

When hunger comes along,
you must dip it.
Before Doritos Dips are gone,
you must dip it.

Now dip it,
in Nacho Cheese.
In Cool Ranch.
Flavor up.
Dip it good!"