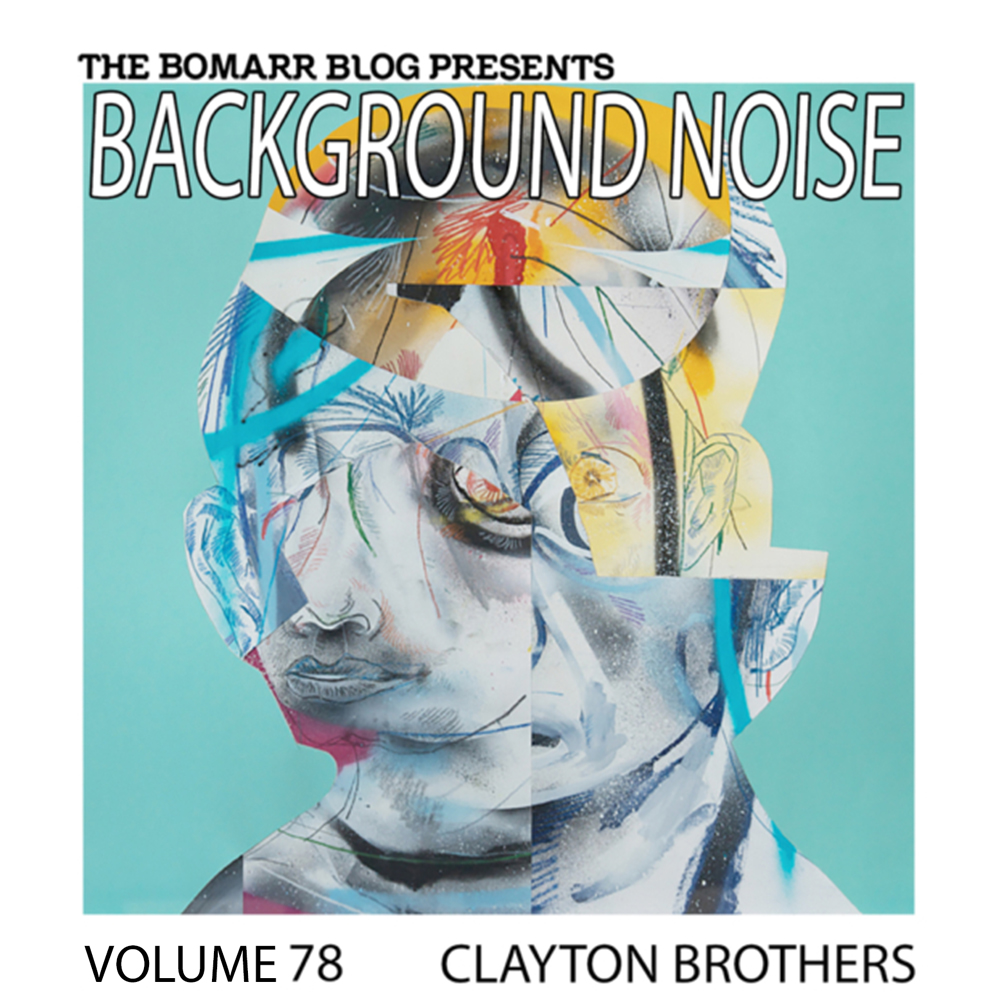 THE BACKGROUND NOISE SERIES FOCUSES ON THE MUSIC THAT ARTISTS LISTEN TO WHEN THEY WORK, WHAT MUSIC INSPIRES THEM, OR JUST MUSIC THEY LIKE. THIS WEEK, IN EPISODE 78, THE FOCUS IS ON CLAYTON BROTHERS.
Rob and Christian Clayton have collaborated on their artwork for years. Rarely working on the same canvas at the same time, the Pasadena, CA brotherly duo have perfected their psychedelic abstract art by taking turns, adding layer upon layer to what's in front of them.
It's not easy to say who does what, whether one painting is more Rob than Christian, or vice versa, but it is said that they both have very different styles. They do share inspiration though, often taking queues from local businesses and local regulars. Watch this great video of the two of them in a thrift store talking about some of these inspirational objects, sayings, etc.
You can learn more about the Clayton Brothers over at claytonbrothers.com.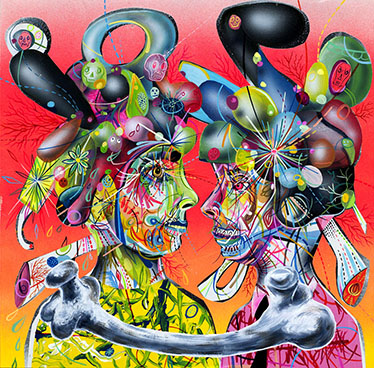 What was your first concert?
CC: The Clash, Red Rocks Colorado
RC: My first concert was the Kamikazi Klones at the Rainbow music hall in Denver Co.
Last concert/show?
CC: Slim Cessna's Auto Club
RC: The last show I went to was with Christian we saw a band from Denver Co. called
Slim Cessna's Auto Club, two of the band members Daniel Grandbois and Todd Moore are childhood friends of ours. Slim Cessna's Auto Club is a truly amazing group of talented musicians.
First album you bought?
CC: The Clash "Give em' Enough Rope"
RC: Elvis Costello "My Aim is True" 1977
Last album you bought?
RC: Morgan O'Kane "Pendulum"
CC: Bob Dylan "The Times They Are a-Changin"
Was there one record that made a significant impression on you?
CC: Tom Waits "Rain Dogs"
RC: I would have to say The Pogues "Rum, Sodomy And The Lash" Every song on this album is great!
Who is your musical hero?
CC: Nina Simone
RC: That would be Joe Strummer
How important is music to your creative process?
CC: When in full-working mode; I would say very important… I love listening to a variety of music when Im in the studio.
RC: I think a lot of the ideas that find their way into our paintings come from the eclectic music we play at the studio. We also make ambient noise recordings from around our neighborhood that we use in our installations.
1. Bob Log III – Six Stringer Kicker
2. The Damned – Dozen Girls
3. Daniel Johnston – Funeral Home
4. Doo Rag – John Henry
5. The Pogues – If I Should Fall From Grace With God
6. The Pogues – Navigator
7. Rocket from the Crypt – Ditch Digger
8. Slim Cessna's Auto Club – Pine Box
9. The Clash – This Is England
10. Nick Cave & The Bad Seeds – Into My Arms
Check out Clayton Brothers' playlist below on Spotify. Be sure to like Background Noise on Facebook for updates on future episodes. You can browse ALL the Background Noise episodes right here.