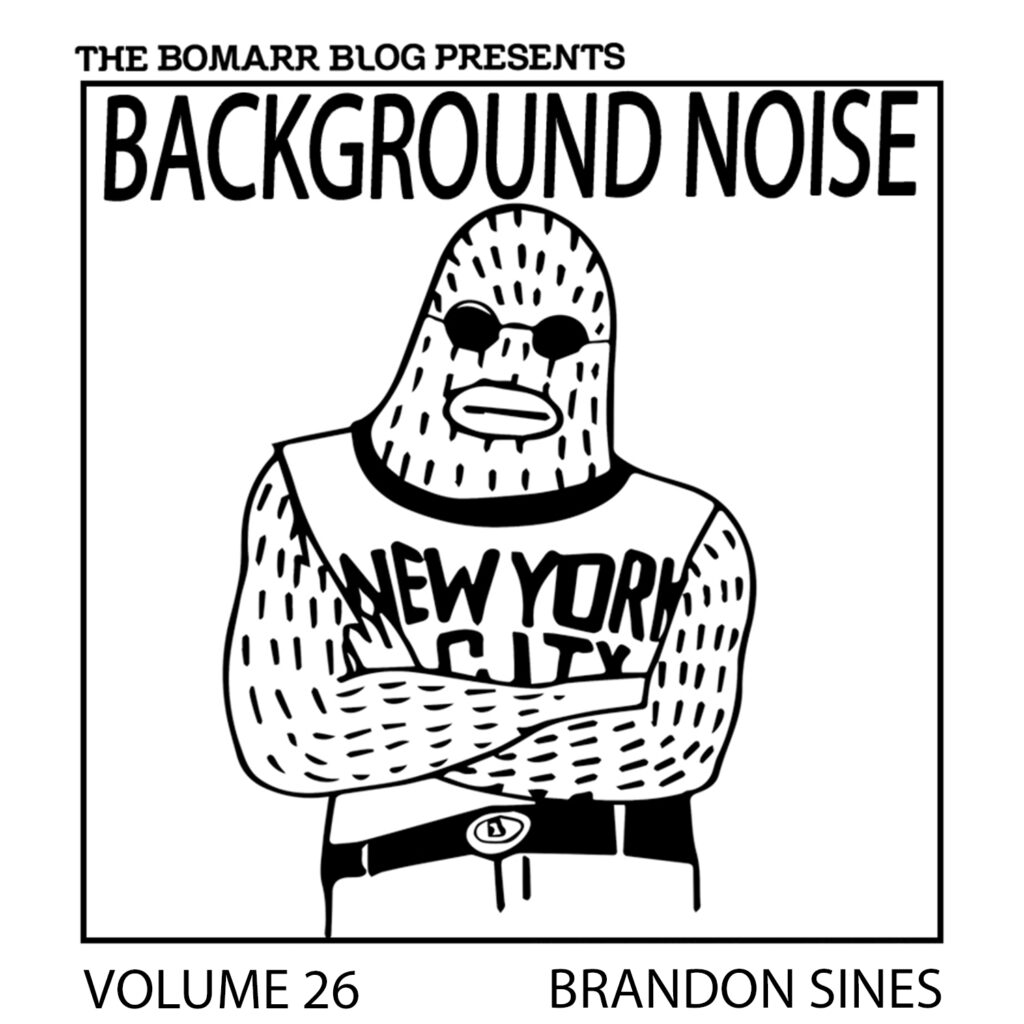 NYC artist Brandon Sines has created an iconic character. His Frank Ape character can be seen on lamp posts, walls, and doors throughout Manhattan and Brooklyn. I could only really compare Frank Ape to a large sock monkey with pop culture tendencies. He'll show up anywhere. Whether it's as John Lennon, Marilyn Monroe, Janet Jackson's famous Rolling Stone cover, or manning the controls on the Starship Enterprise. Frank has no shame. He'll show up anywhere he damn pleases.
This iconic imagery has made Brandon's creation easy to latch onto. He's a likable character right off the bat, and then to see him incorporated into already familiar scenes/images, it's a win-win situation. So much so, that he can count Beyonce's little sister Solange (yeah, that's right, the one who attacked Jay Z in the Standard Hotel elevator) as a fan.
Brandon had his first solo show this past May at Specials on C, a former bodega in NYC's Alphabet City. The same place, actually where RAE hosted his own solo show last year. The venue has been friendly to artists, and there were really no limits in regard to Brandon doing whatever he wanted with the space. He even had Frank Ape-branded soda, dollar bills, and M&Ms on display.
Now that he has everyone's attention with the Frank Ape character, expect to see more of Brandon's creations start popping up. Some of which you can see on his website.
Honestly, I'm not sure if the mix he made is tongue-in-cheek, given his history of humorous illustrations, and considering it starts with Cyndi Lauper's "Girls Just Want To Have Fun", but either way, I love it. It's an amazing mix of 70s/80s rock classics. Perfect for any training montage. I'm actually getting all pumped up listening to it as I write this.
What was your first concert?
First ever was probably Bob Dylan with my mom…on my own, TLC in 1998 I believe.
Last concert/show?
Filthy Savage
First album, tape or cd you bought?
An Elvis tape when I was like 6.  First album I bought with my own money…some old-school hip hop compilation, can't remember the name…maybe "Back in the Day"?  I was 11.
Last album you bought?
Tears for Fears "Best Of" album.
Was there any album that made a significant impression on you?
So many…the first 3 Nas albums come to mind, Soundbombing from Rawkus was my shit.  Older Wu-tang.  Death Grips.
Who is your musical hero?
R Kelly
How important do you think music is to your creative process?
It's not like I can't draw or paint without music..sometimes it's even nice to do that. But nothing can give you that energy or inspiration that the right song can. So it's kinda magic.
Cyndi Lauper – Girls Just Want To Have Fun
Nick  Gilder – Hot Child In The City
Bon Jovi – Livin On A Prayer
Boston – More Than A Feeling
Alice Cooper – Poison
Paul Engemann – Push It To The Limit
Joe Esposito – The Best
Tom Petty – I Won't Back Down
Eddie Money – Take Me Home Tonight
Ace Frehley – New York Groove
Elton John – Crocodile Rock
Bruce Springsteen – Dancing In The Dark
Phil Collins – Sussudio
Check out Brandon's playlist below on Spotify. Be sure to like Background Noise on Facebook for updates on future episodes. You can browse ALL the Background Noise episodes right here.