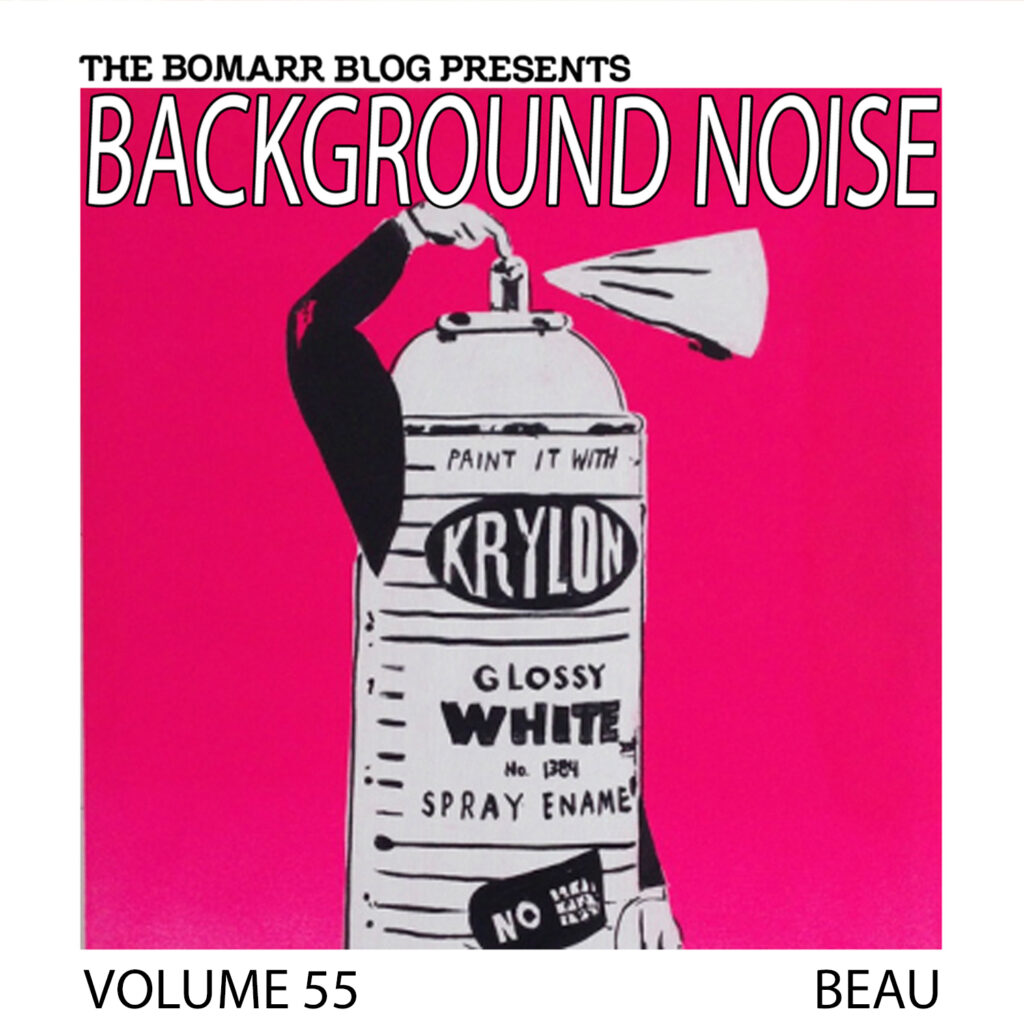 I first noticed BEAU's work on a discarded mattress in New York's East Village. Fear of bedbugs aside, it's a great canvas to really get people's attention with due to its size, and due to the fact that most people will do a double take like I did and say "Did that guy just paint a mattress!!??" Like his contemporary JIM JOE, BEAU chooses to do a lot of his art on trash these days, primarily resulting from one too many run-ins with New York City's Vandal Squad. What's great about this is that not only is this something that (I believe) you can't get arrested for, but it also becomes disposable art. Something that just appears there and exists in the world for a quick moment before being picked up by sanitation workers and discarded forever. Obviously, items as large as mattresses aren't usually going to be picked up and taken home, but a lot of the art that BEAU leaves on the street can be. It is often taken and collected, especially as familiarity with BEAU's work grows.
In addition to having a handful of regular collectors of his work, he's gotten the attention of Jay Z's former Roc-A-Fella business partner Damon Dash, whose Poppington Gallery on the Lower East Side opened a couple of years ago, with a show curated by and featuring BEAU's work.
He covers all different types of mediums with his work. He does straight-up graffiti, stickers, sculpture, and fine art. His fine art work is extremely impressive, especially when you factor in that he has absolutely no formal artistic training. Oh, and he raps too (you can hear a bunch of his songs on his mix). He's obviously not the type of person who is content just sitting still.
What was your first concert?
A house show with Jason Anderson, The Jerry Riddle, and Adrian Orange taking place at Jef Logsdon's flat in Panama City, Florida.
Last concert?
Don't really go out.
First album you bought?
I stole most of my music, a lot of Bone Thugs n Harmony stuff, pop wouldn't buy me that stuff at that time.
Last album you bought?
Scot Bazar's experimental sound compositions
Was there one record that made a significant impression on you?
A series of albums had an effect on me that was necessary for building the character I am today.
Who is your musical hero?
Rza, Gza, Vincent Gallo, Johnny Cash
How important is music to your creative process?
It depends on my mood and what I am working on. But in life, music is important and beyond life-transforming.
1.  Adrian Orange and Her Band – Keep Your Money
2. Charly Madigan – 322-beat: unknown
3. Chet Baker – Almost Blue
4. Devendra Banhart – Aperpareplane
5. Charly Madigan – Back To The Basics feat. THAUTZ
6. Charly Madigan – Black Swan
7. Bob Dylan – Blood In My Eyes
8. Charly Madigan – City of Babel
9. Raekwon – Cold Outside feat. Ghostface Killah
10. Charly Madigan – Dat Instagram Shit
11. The Love Letter Band – Everybody Sings Their Own Little Song
12. Charly Madigan – For All My People
13. RZA – Killer Bee Till Ya Die
14. Charly Madigan – Lab Drunk
15. Self Scientific – Live N Breathe
16. Pure Horsehair – Mangoes
17. Neil Young – My My, Hey Hey (Out of the Blue)
18. Charly Madigan – New Rap feat Sudoxe
19. U-God – Night the City Cried
20. Vincent Gallo – No Regard
21. GZA – Paper Plates (50 Cent Diss)
22. Charly Madigan – Put In On Blast
23. Krayzie Bone – Sad Song
24. Charly Madigan – Scooby Snacks (Weed Song)
25. Charly Madigan – Smokin' Relish
26. Masta Killa – Soul & Substance
27. Charly Madigan – The EYE
28. Nate Dogg – These Days
29. Tupac Shakur – They Don't Give A Fuck 'Bout Us
30. Charly Madigan – Up In Tha…
31. Outkast – Wailin'
Check out BEAU's playlist on Spotify or via the Mixcloud embed below. Be sure to like Background Noise on Facebook for updates on future episodes. You can browse ALL the Background Noise episodes right here.