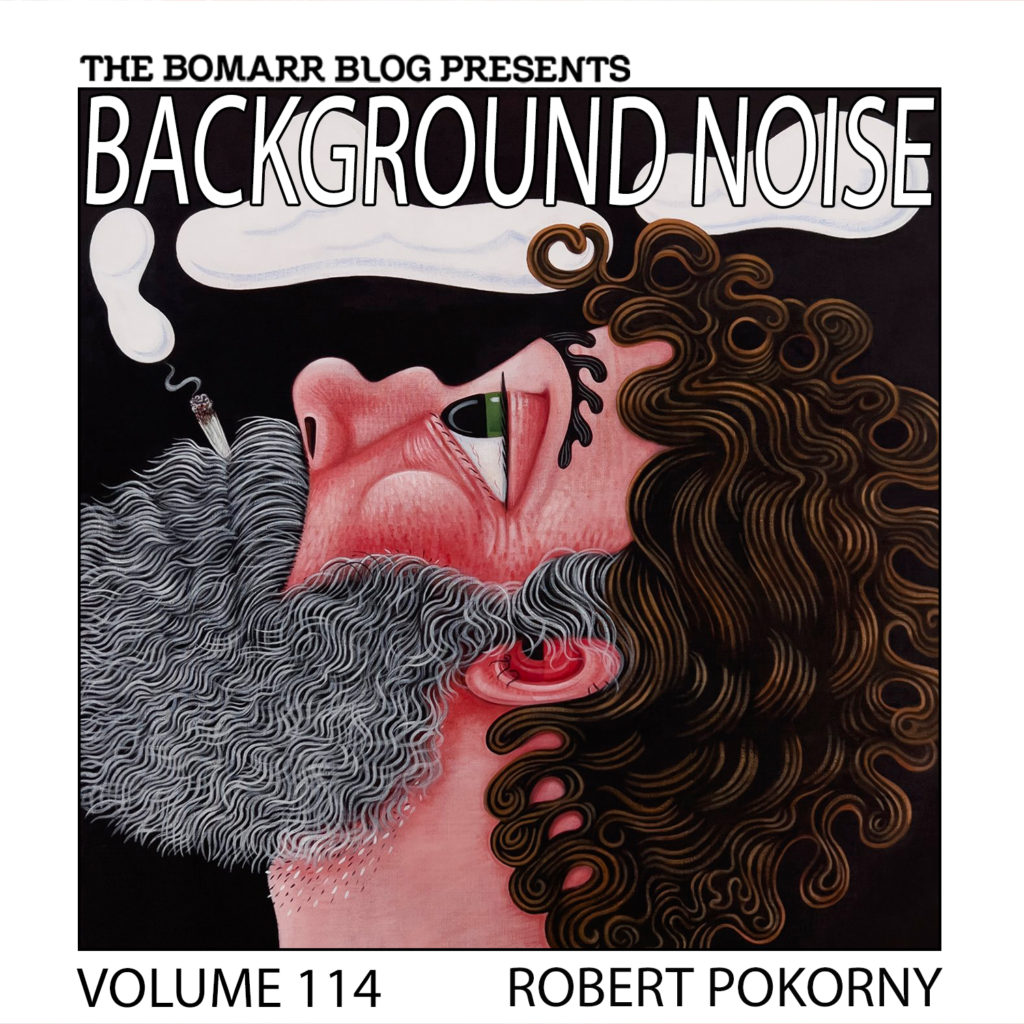 Like many of us, Long Beach, CA-based artist Robert Pokorny made mixtapes as a young man. Back then, making a mixtape was an art in and of itself; the meticulous planning of the song sequence so that each side starts and ends strong, or the often customized nature of making a one-off tape for a crush or a potential new friend. I think it's safe to say you'll find that most of the people who put their heart and soul into creating these types of things went on to have music play a heavy role in their lives in one way or another.
Sure enough, he's kept music close by his side. He's done many posters for clubs, indie bands, and record labels. Most notably, Phish, J Mascis, My Morning Jacket, and Sparklehorse, among many others. The latter led him to be the artist responsible for Sparklehorse's final album "Dreamt For Light Years.
All of this is in addition to the abstract, cubist-like portraiture that he exhibits in galleries all over. He's quite prolific. His 2021 solo show "Thinking, Staring & Smoking" debuted at Johansson Projects in Oakland, CA. This particular show seemed extra special because the series of paintings exhibited focused on escapism during the pandemic. The pieces exclusively portrayed him and his wife at times of quiet reflection. He intentionally worked with a limited color palette (including many shades of gray), to represent the monotony of everyday life at that time. You can see photos from that show here.
Robert has included some classics from Camper Van Beethoven, Pavement, Neil Young, Tom Waits, the Velvet Underground, and more on his playlist at the bottom of the page. Go click play and read my interview below.
First album you bought?
I was 10 or 11 and bought AC/DC Highway to Hell and Back in Black together. This was rock! This was dangerous! I was hooked. I remember the feeling of holding the vinyl staring, and absorbing all the album information, and how intoxicating it was to a young kid.
Last album you bought?
Well, I bought 3 the other day at Fingerprints in Long Beach.
Bob Dylan – Infidels
Silver Jews – American Water
The Skygreen Leopards – Disciples of California. 
It's so overwhelming in a record store. I try to go in with a plan but still get a little deer in the headlight look.
First concert?
Talk Talk at Oakwood Lake Resort 
This was right after It's My Life came out.
I can still see Mark Hollis singing up on stage, very enigmatic.
Last concert?
Dead and Company at the Forum
Was there one album that made a significant impression on you?
Talk Talk – Spirit of Eden
I was in Junior College (1988) when it came out. I already was anticipating it. I knew their previous albums had progressed in quite extraordinary ways and was excited for this new album. Back then there wasn't much hype or information. So, the day it was released I went to the record store, and actually, I got the cassette put it on in my car, and drove home through kind of a rural area with orchards (this music was made with nature in mind). At first, it was perplexing. I had to turn it up a little louder than what I might normally put it at because it was so sparse and quiet, but then it would get loud. It could have been easily been dismissed if you weren't committed. It demanded your attention and either you were intrigued by this new record or you were upset by it. I couldn't really fully comprehend what I was hearing. I knew it was something extraordinary and realized that this was Art! (my first experience of this feeling). I drove home playing this in utter disbelief. I then drove over to my friend's house at the end of the block. He was a drummer (Led Zeppelin fiend) and a friend with whom I shared music with. We sat in the car and just both tried to take it in. He was as dumbfounded as I was and we sat there flattened by what music could be. This was a vision, every note seemed to have a purpose, no compromising. It really set the bar for me as to what music or art could become for the artist, I was forever changed. I still cite them as an influence.
Who is your musical hero?
That's hard. Heroes – Mark Hollis, Neil Young, The Clash, Talking Heads, Bob Dylan, Tom Petty, Beatles, Rolling Stones, Led Zeppelin. This is the core but I could go on…This is an ever-expanding area and shifts throughout your life. Artists, musicians, songs, paintings all have their time and depend on the context of where I'm at in life. 
How important is music to your creative process?
Super important. I have music on all day long. It's the first thing I do when I walk into the studio. It sets the mood, intentions, supplies inspiration, information. It can pick you up when you're exhausted and push me forward. Lyrics sneak into titles all the time.
BONUS: What is your favorite album cover of all time (and why)?
So many great covers for different reasons. This is such an added bonus to making a great record too. Too many, too hard but I will choose one that has a painting on it. Charles Mingus Ah Um with cover art by S. Neil Fujita. Outstanding painting, great visual vocabulary, it just evokes the feeling of jazz and was probably what first piqued my interest in abstract art. I love all the album covers S. Neil Fujita did.
BONUS #2: Any visual artist(s) you'd like to see answer these questions?
Matt F Fisher, Paul Housley, Luke Hannam, Francisco Mendes Moreira, Brian Alfred, and Jay Gaskill
Take the Skinheads Bowling – Camper Van Beethoven
Cut Your Hair – Pavement
Dirty, Dirty – Crazy Horse
Walking Spanish – Tom Waits
Rabbit One – Masters of Reality
Maybe Someday Maybe Never – Dennis Stoner
Free's – Bill Callahan
C'est Normal – Brigitte Fontaine & Areski Belkacem
Primitive Painters – Felt
Storyline Fever – Purple Mountains
I've Got a Feeling – the Beatles
Oh! Sweet Nuthin' – the Velvet Underground
Observatory Crest – Captain Beefheart & His Magic Band
On the Beach – Neil Young
Highlands – Bob Dylan
Check out Robert's playlist below on Spotify. Be sure to like Background Noise on Facebook for updates on future episodes. You can browse ALL the Background Noise episodes right here.