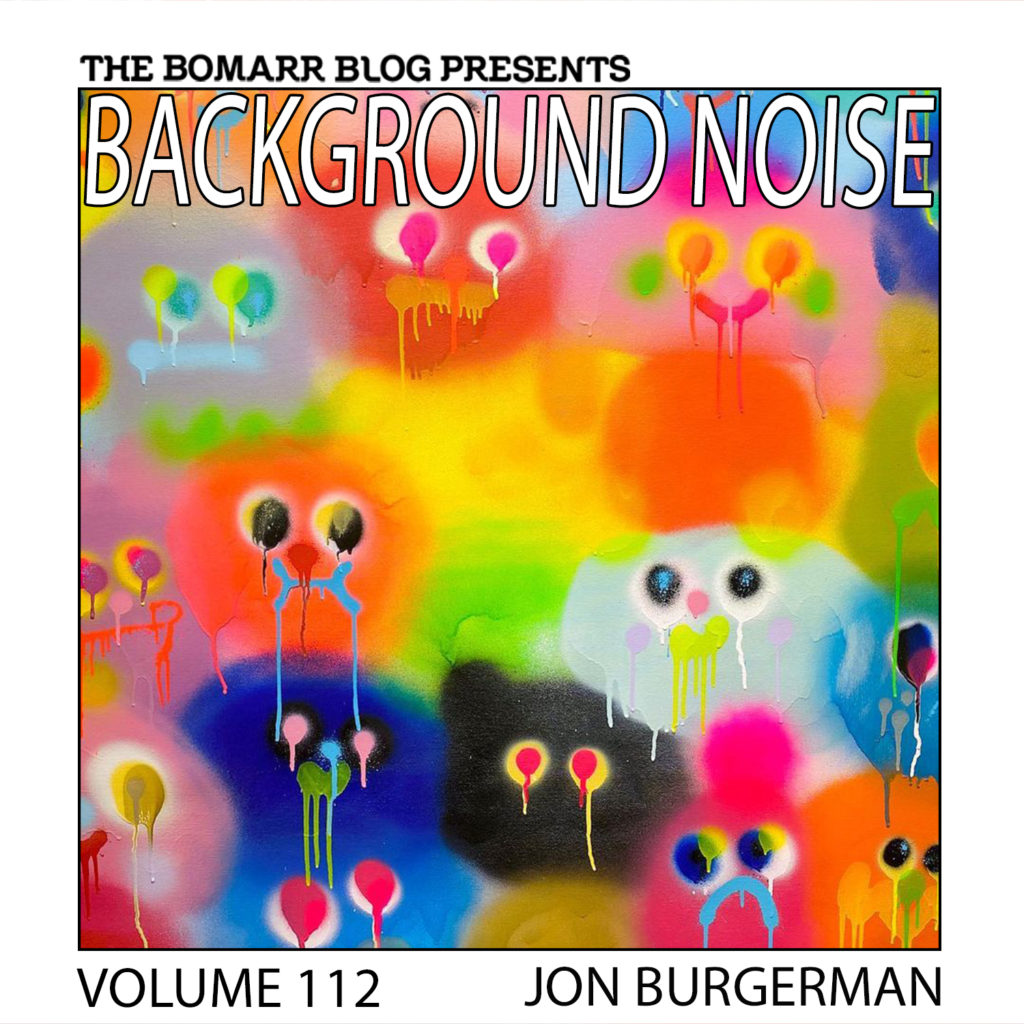 I first happened upon Jon Burgerman while waiting in line outside of a Jeff Koons retrospective at the Whitney Museum in New York City. The line was long, curling around the block, and there was a sharp-dressed man (Burgerman) standing close to the museum entrance (but not close enough to anger the Whitney employees). You'd think he worked for the museum, as he was selling little clear boxes of what appeared to be miniature replicas of Koons's aluminum Play-Doh sculpture. In reality, he WAS selling miniature replicas, but they were not sanctioned by Koons or the museum, and they were actually made of Play Doh. Looking back, I wish I had purchased one, but instead, I laughed at the brilliance of it and made my way into the exhibit.
Burgerman is one of those artists who needs to constantly create. There seems to never be a dull moment in his world. He uses every free moment, whether on the train, out for a walk, or what-have-you, to capture things that he can later build on. He put together a video talking about how he passed some of his time in early quarantine, and it's pretty inspiring. 
He's worked in many mediums… watercolor, painting, sculpture, neon, spray paint, GIFs, inflatables, picture books, vinyl toys, and clothing, to name a few. Recently, he's become a hot seller in the NFT scene, with six sold-out collections on Nifty Gateway. 
Not surprisingly, he's also a musician, having recorded and toured as part of the duo Anxieteam with his friend Jim Avignon. He's done a handful of album covers for various musicians. Most recently, he's done cover art and live show visuals for the Brooklyn band Yucky Duster, and Todayidance.
Music definitely plays a big part in Jon's life, as you can see below.
First album you bought?
I can't really remember but once my dad came home with some knock-off Walkmans (for me and my brothers) and cassette copies of Bad by Michael Jackson and Faith by George Michael.
I'm guessing he went to the record shop and asked for the best-selling Michael album, and didn't know which was which so got both.
Last album you bought?
I stream everything now, like a total cretin.
Before that, I'd buy everything digitally. The last LP I got was… Mulatu Astatke – Mulatu Of Ethiopia purchased in October 2017.
First concert?
I can't remember the first but one of the first was Broadcast in Birmingham, UK
Last concert?
Not sure… maybe the Yucky Dusters here in Brooklyn.
Was there one album that made a significant impression on you?
Jimi Hendrix's three studio albums. I was really into them.
Who is your musical hero?
Jimi Hendrix
How important is music to your creative process?
Vital, of course.
BONUS: What is your favorite album cover of all time (and why)?
Off the top of my head Beck Odelay, but I will probably be struck with a better one later.
I like it because I like dogs and I like mops.
BONUS #2: Any visual artist(s) you'd like to see answer these questions?
Fewocious
---
jonburgerman.com
instagram.com/jonburgerman
"iknoweyes" – Todayidance
"Gorilla Man" – Condry Ziqubu
"Naboo" – Hot Since 82, Miss Kitten
"I'm In Love" – Evelyn "Champagne" King
"Vroom Vroom" – Charli XCX
"Abbot of Burton – John Tejada
"Bongo Bong" – Ed Solo, Deekline
"Chemz" – Burial
"BIPP – Autechre Mx" – SOPHIE, Autechre
"6pm" – Dan Oiuw
"Baltzar" – Kornél Kovács
"NYC2MIA – SOPHIE Remix" – Basside, SOPHIE
"Summer Smash – Denim Version" – Denim
"Feel Like Jumping" Marcia Griffiths
Check out Jon's's playlist below on Spotify. Be sure to like Background Noise on Facebook for updates on future episodes. You can browse ALL the Background Noise episodes right here.