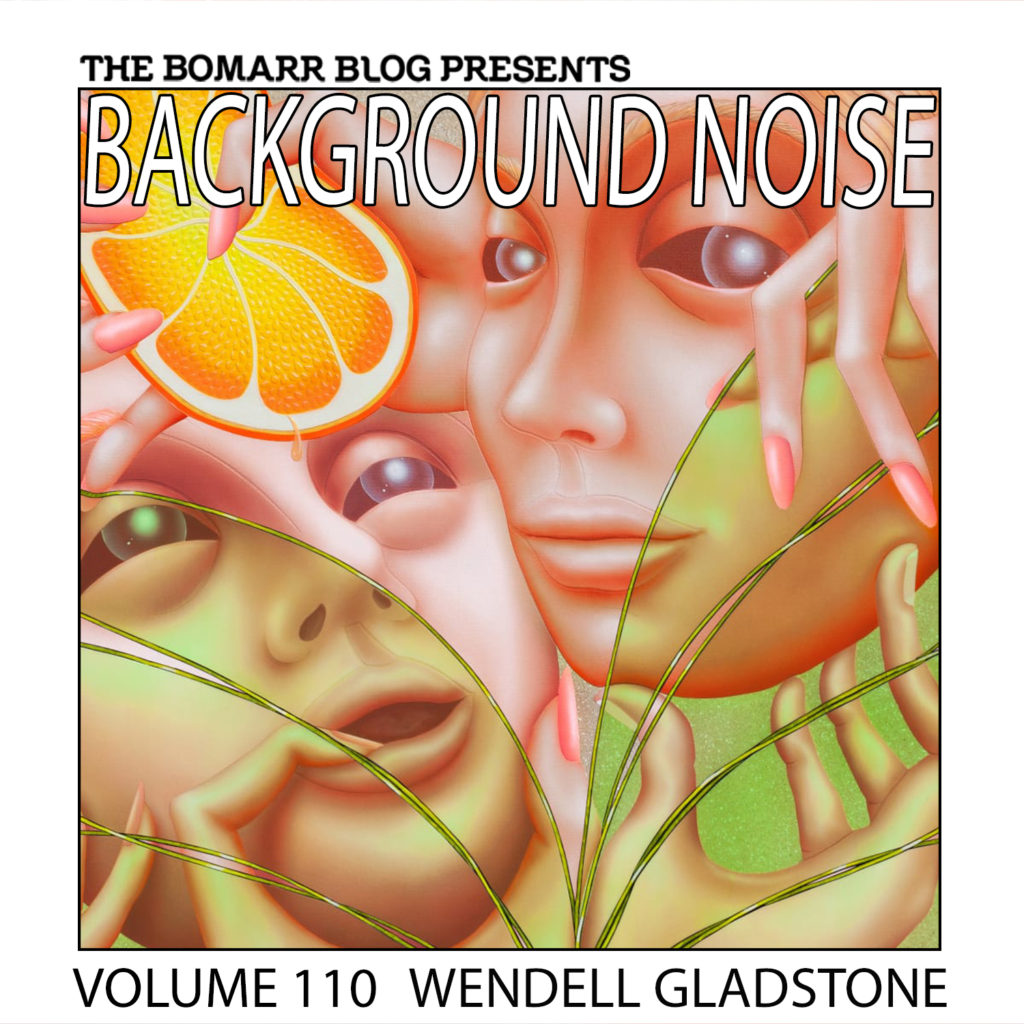 Wendell Gladstone's psychedelic acrylic paintings depict a world full of often pale green and yellow characters. There's a bit of unease to them that I can't pinpoint 100%, but maybe it's because those frequently dominant colors remind me of the color you see someone turn before they vomit bile all over their shoes. Or maybe it's the inhuman contortions the characters are twisted into. Either way, I still find his paintings incredibly compelling and quite unique.
First album you bought?
Men at Work, Business As Usual
Last album you bought?
I have no idea. Kind of lame, it's been piecemeal tracks since digital took over. The last artist I downloaded was Anika, a single "Finger Pies".
First concert?
The Fixx lol
Last concert?
It's been awhile. Neutral Milk Hotel and Daniel Johnston at the Hollywood Bowl.
Was there one album that made a significant impression on you?
So many have. Stevie Wonder's Innervisions was one that really grabbed my attention as a young kid (from my parent's collection). I discovered Joni Mitchell's Mingus album in my late teens and its mood was something that blew me away and still sticks with me. I also go back to early Roxy Music a lot; there's a strong draw there.
Who is your musical hero?
Maybe Bowie. So many interesting phases and my appreciation of his catalogue evolves. I had an immediate attraction to stuff like Hunky Dory and later on got into Lodger, Low, etc.
How important is music to your creative process?
I have a large Spotify studio playlist that's constantly playing on shuffle while I paint. I'm not sure how much seeps into the work, but it's something I need to have when making. It's probably more of an emotional driver.
BONUS: What is your favorite album cover of all time (and why)?
My older brother had Queen's News of the World. I loved the mix of psy-fi, glam and gore.
BONUS #2: Any visual artist(s) you'd like to see answer these questions?
Brian Cooper (who is also a musician, going by Earth Like Planets)
1) Sanza Tristesse, Francis Bebey
2) So Into You, Shudder To Think
3) 2HB, Roxy Music
4) Hip Priest, The Fall
5) God Must Be A Boogie Man, Joni Mitchell
6) Mace And Grenades, Hugh Masekela
7) No Sense Of Crime, Van Hunt (The only cover ever that I think I like more than the original)
8) Red Sails, David Bowie
9) Get Got, Death Grips
10) Mongrel, Alex Cameron
11) Oh Comely, Neutral Milk Hotel (My all-time favorite lyrics)
12) All Caps, Madvillain
13) Where Eagles Dare, Misfits
14) Tender Buttons, Broadcast
15) Coffin Maker, Chrissy Zebby Tembo
Check out Wendell's's playlist below on Spotify. Be sure to like Background Noise on Facebook for updates on future episodes. You can browse ALL the Background Noise episodes right here.