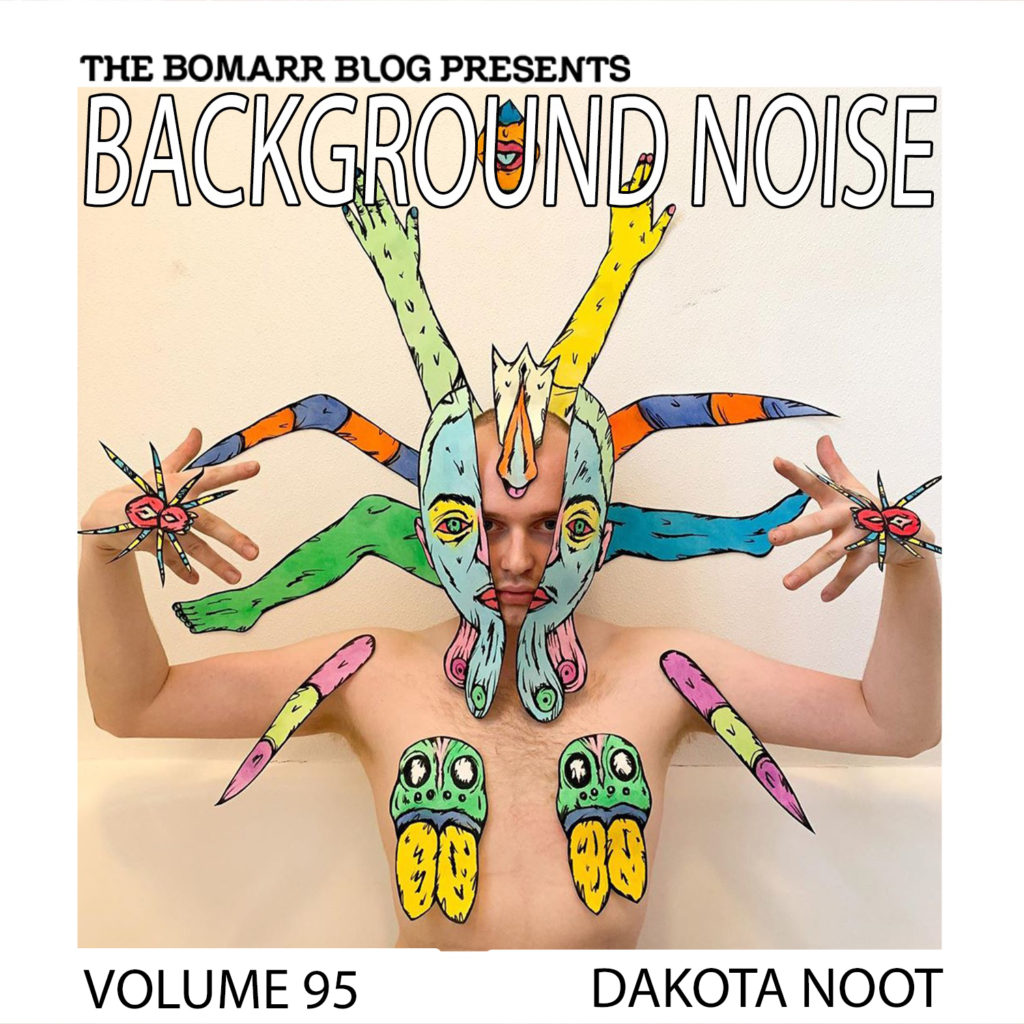 I once worked with a man named Edward. His last name was Edwards, and he was from a town called Edwardsville. It's because of this that Dakota Noot originally being from North Dakota does not seem weird to me. I love those special little anecdotes, actually. It makes people that much more memorable to me.
I stumbled on Dakota's work a couple of years ago when he exhibited his "Meat Market" show at MuzeuMM in Los Angeles. What got me were the surreal human/animal hybrids that he had placed around the gallery. Colorful drawings on cut-out foam core done with crayons, paint, and markers. They seemed perfectly out of place in the empty concrete-floored room, almost coming to life as their own little community.
Since the year 2020 has forced us all to spend much more time indoors, Dakota has been using that time to develop a fresh approach to his work. The cut-outs are now morphing into an extension of himself. The art has become personal decoration for him. It's grown into something more like performance art than it was when the art would stand on its own. The colors in the work have become much more vibrant, and the photographs of him interacting with the art are just as much a part of his artistic expression as the art itself. It's all so beautifully weird, which is exactly my cup of tea.
I thoroughly enjoyed Dakota's playlist. Also very much my cup of tea. There's plenty of dark synth-pop on there, from Lebanon Hanover to Q Lazzarus. A little Nico and Lydia Lunch thrown in for good measure and even a song from Teen Mom Farrah Abraham.
Check out Dakota's interview and playlist after the gallery below.
First album you bought?
Either Nico's Desertshore or the Marble Index. I was obsessed with Warhol's Factory scene growing up, and that somehow led me to Nico instead of the Velvet Underground's solo work. She had the weirdness I needed. I loved that she wanted to be ugly. It was a strange choice for a kid from North Dakota to listen to, but unlike Yoko Ono, no one judged me for it. Mostly because Nico was too obscure and off their radar. Her work is medieval, surreal, and haunting. There still isn't anyone like her.
Last album you bought?
Rising by Yoko Ono. Her song "Warzone" was the perfect song to start driving to (before the pandemic). The album is a mix of energetic and soothing jazz songs. She doesn't get enough appreciation for the control of her voice in more traditional songs.
First concert?
STRFKR at the GlassHouse in Pomona. I didn't grow up with that many opportunities for concerts/music in North Dakota. My first concert was here in California after I moved. They reminded me a lot of the electroclash scene – which I was too young to experience beyond the internet.
Last concert?
Now, this is a blur with the pandemic. I need to check out more digital concerts.
Was there one album that made a significant impression on you?
First Album by Miss Kittin & the Hacker. Sex, drugs, and rock-and-roll – but done in sleazy electroclash and deadpan lyrics. It was the exact opposite of the wholesome country music I grew up with, and it was inspiring. It's one of the few electroclash albums that I can play all the way through (and still do). It's an album that wasn't afraid to have humor and style – even if that's all it might have had. It helped me be more confident. The song "1982" also taught me a history of techno, electro, and house through its references.
Who is your musical hero?
Lydia Lunch. She's a woman who has done it all (music, writing, acting, performance) and has the abrasive confidence I want. I love that she isn't mainstream or easily digestible. Lydia has kept going, surviving, and making it beyond the initial no-wave scene. I want that longevity as an artist, regardless of how many people like my art or me.
How important is music to your creative process?
Music is like a dreamy (or hellish) womb where weird art is born. Listening to music is very trance-like and ritualistic to me. It allows me to zone out and conjure my painted or drawn creatures. My style is similar to music covers and illustrations. I felt like my drawing installations were set pieces for music videos or films that were never made.

BONUS: Is there any music, in particular, getting you through this strange time we're living through?
New darkwave or goth bands like Boy Harsher and Lebanon Hanover. I love darker imagery, lyrics, and beats set to brooding voices. It's why I also have watched so many horror movies instead of comedies during the pandemic. Darker music is escapist but cathartic. I want to dance, even if it's in my room.
Anyway – Oto
My Heart Is Empty – Nico
Moscow Discow – Radio Edit (UK Version) – JD Davis, Telex
Saddest Smile – Lebanon Hanover
Thrash Me – Malaria!
After Prom – Farrah Abraham
Dirty Me (Incorporated Whore) – Velvet Condom
Goodbye Horses – Q Lazzarus
Supernature – Cerrone
Space Invaders Are Smoking Grass – I-F
Punch My Kitty – Glamorous Monique
Orphans – Live at Max's Kansas City, New York, NY, May 17, 1978 – Teenage Jesus & The Jerks
Check out Dakota's playlist below on Spotify. Be sure to like Background Noise on Facebook for updates on future episodes. You can browse ALL the Background Noise episodes right here.